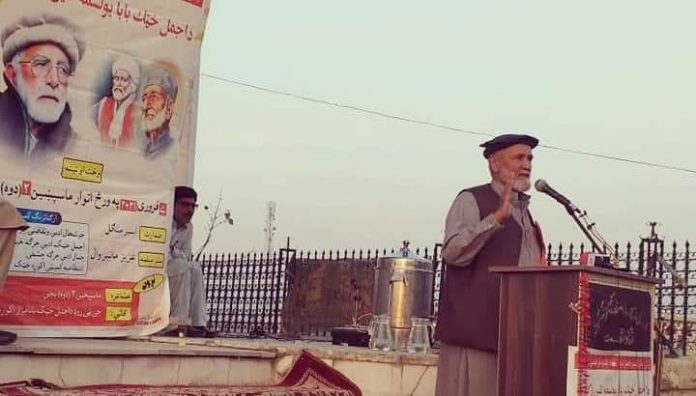 NOWSHERA: Eminent Pashto poet Aseer Mangal says the poetry of Ajmal Khattak awakened the Pakhtuns and his poetry embodies the voice of the oppressed and sympathy for the people.
Addressing a ceremony arranged in connection with 11th death anniversary of Ajmal Khattak in Akora Khattak on Monday, Aseer Mangal said no nation can make development by cutting its links with literature and poetry. He said Ajmal Khattak dreamed of unity among Pakhtuns and making them a developed nation.
The death anniversary was organised at the mausoleum of Ajmal Khattak which was attended by poets, writers and other people associated with art and literature from different parts of the country. A floral chaddar was laid on the tomb of Ajmal Khattak and a Mushaira (poetic symposium) was also arranged on the occasion.
Speakers on the occasion put light on life and achievement of Ajmal Khattak. They said Ajmal Khattak spent his whole life while serving Pakhtuns. They said Ajmal Khattak was a revolutionary poet who created awareness among the Pakhtuns about the importance of self-belief. They said Ajmal Khattak had a challenging time in the Parliament as he always spoke against perks and privileges and preferred a simple life.
Born on 15 September, 1925, Ajmal Khattak served in the field of literature, politics and journalism for 50 years and left a deep impression on Pakhtun society. Ajmal Khattak was elected general secretary of the National Awami Party (NAP) in 1972. He also served as president of the ANP twice.
Ajmal Khattak had to live in exile in Kabul from 1970 till 1989 when the then government initiated crackdown against his party. He was elected as a member of the National Assembly on the ticket of ANP in 1990. He was considered very close to the party founder Khan Abdul Ghaffar Khan (Bacha Khan) and Abdul Wali Khan. Both the leaders gave importance to the opinion of Ajmal Khattak and they often sought his advice on important matters.
The eminent poet published 13 books on poetry and prose and 18 magazines. His books Da Ghairat Chegha, Da Jwand Chegha, Kachkol, Batoor, Da Ze Pagal Wom, Jwand of Fan and Sri Ghunche got much fame and are still popular among the readers of Pashto literature. A lot of research has also been done on his work in the field of literature.
Ajmal Khattak had retired from active politics in the last days of his life. He died after protracted illness on 7 February, 2010 at the age of 85. He was laid to rest in Akora Khattak village in Nowshera.
Hits: 0