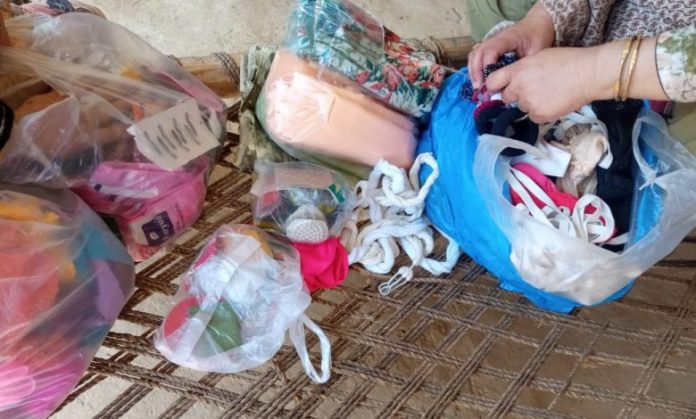 Kainat
MARDAN: Mushiada Bibi from Mardan is working as a vendor selling clothes and other items of women's interest at homes for the last 11 years since her husband's death.
Her husband, who was a brick kiln worker, died 11 years ago. Her eldest son is a cancer patient and she has married off her two daughters. She is living in extreme poverty, and complains that no one comes to her help and she is very disappointed particularly with the government.
Mushaida says some people treat her well and also buy items from her, but there are also many people who mistreat her and accuse her of theft and spying. She says she had no support after the death of her husband and started work to earn livelihood. She says she works the whole day to feed her family and when she had no sales then the family had to sleep without food.
The condition of Mushaida's house is very dangerous as it is situated near a mountain and a nullah flows on the other side and the family lives under constant fear of their house being washed away in case of rain, flood or land sliding. Some other poor families also live near her house. She says politicians come during election days for seeking votes and then disappear.
Mushaida says she brings items on loan from a market, but when the items are not sold then the shopkeepers seek their money and she has nothing to pay them. She says he is also a heart patient and feels weakness, but there is no other option to keep going. She says her earning is too low to make ends meet.
The elderly woman says her son and his wife remain at home when she goes out for work. She says things were considerably easier earlier, but the current era of unprecedented inflation has made her life even more difficult. She says she now hardly manages to buy a flour bag after the whole week work. She says she has never received anything so far from the government funds for poor people. She says the government should take care of widows and orphans on priority basis.