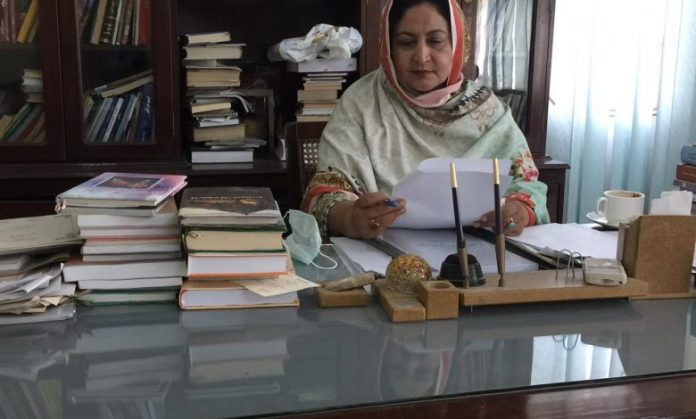 Usman Khan
PESHAWAR: Professor Farkhanda Liaquat from Charsadda is known as a shining star of Pashto literature who has rendered valuable services to the field.
According to Iqbal, Farkhanda Liaquat has bestowed new colours with her presence to the horizon of Pashto literature and has added to its beauty with her esthetic sense.
Farkhanda Liaquat is currently serving as an Associate Professor at Pashto Academy of the University of Peshawar. She has been serving at the UoP for 18 years.
In an exclusive interview with TNN, Farkhanda shared that from having a Master's degree to her current position, she had been through a lot in these three decades. "And sitting here, talking about those hurdles as my experience is easier than having gone through them. I have been through a lot but it was all made possible just because of the cooperation of my in-laws and especially my husband, who backed me through thick and thin and encouraged me to move forward," she said.
Farkhanda Liaquat has the honour of authoring four books, including a poetry book named, 'Sa Haqiqat Sa Da Khubuno Dunya'. The second book is named, 'Da Pukhto Manzoomi Qisay', third book is about the 'life and literary services of Abdul Akbar Khan Akbar', and her fourth book is a series of biographies named,' Zama Juand Qisay Zama Pa Jaba'.
Professor Farkhanda shares that she had no interest in poetry till she joined Pashto Academy. "That's when I realised that I must make some efforts in poetry and research field," she said.
"Former chairman of Pashto Academy would encourage me saying, Farkhanda, you can do poetry, but I would say, sir, it's not my cup of tea, but he wouldn't listen and one day he handed me a copy and told me to write anything as poetry that crosses my mind and that's how I started my journey of poetry," she said.
According to Professor Farkhanda, Sir Azam would often visit her office and ask her, "Farkhanda! Have you written anything?" "But I would shy away from writing poetry, thinking how do people compose it? I couldn't even recite poetry in front of a crowd. But then one day Sir Azam asked me, if you have any Pashto poetry, give it to me, I'll publish it in Pashto magazine. That's when I told him that I have written a poem but I have no idea if it is okay. When I shared my poem with him he got really happy and appreciated me saying this is a perfect poem meeting every standard of poetry."
Prof Farkhanda says Doctor Sahab's encouragement lifted her spirits a lot. "He told me that you are a talented person and have the potential to polish your skills if given proper concentration."
Doctor Farkhanda says she completed her first poetry collection in almost four months and it was ready for printing.
"Those were the days when Professor Ahmad Ali Aziz visited my office and told me that: I've heard you are printing your poetry book. I said, yes sir, take a look at it, and handed him the collection."
She said Professor Ahmad Ali Aziz told her that printing a book is very difficult. He said he had compiled a book and it's been 40 years but whenever he picks it up for publication, he thinks it's not complete yet, there must be some shortcomings and then add or remove something from the book. He asked Farkhanda to take a look at her book, and there must be some shortcomings also.
"I told him that I have taken it upon myself to publish this book. Because I feel like the publishing of this book is my calling."
Doctor Ahmed Ali had a great laugh at this and said, "You've come out as a Trojan horse."
Then Farkhanda's book got published after six months of this discussion, named 'Sa Haqiqat Sa Da Khubuno Dunya', which entails mostly poems. Farkhanda said her friends told her she have a knack for poetry since she wrote very well and she has felt that her tendency was also towards poetry.
Doctor Farkhanda shares that the topics of the poems in her book are mainly based on real-life events. She says with a smiling face that the poetry of dreams was written in her early years work.
Apart from this, Prof Farkhanda's second big achievement is writing biographies of the living legends which were written by these personalities themselves, that she composed in form of a book. According to Farkhanda, nobody can raise any point on these books because it's the specialty of these books that they've been written by these living legends themselves. And the name of that book is, 'Zama Juand Qisay Zama Pa Jaba'.
Dr Farkhanda Liaquat says that the Pashto Academy of the UoP has started very good initiatives.
"If you notice, PhDs were completed on some specific topics like Rehman Baba, Khush'haal Baba etc. and no doubt these topics are also important and have still tended to be discovered more but we also need to excel beyond these topics as per the requirement of the modern times. The Pashto language also needs more innovation just like other languages."
Dr Farkhanda says we are trying to research and find solutions to the problems and difficulties faced by Pashtuns these days. "Under our supervision, we are working on issues like globalisation and Pashto language, the threat to Pashtun culture, the effects of 9/11 on Pashto literature. Now we intend to work according to the requirements of the current situation and guide students accordingly."
According to Dr Farkhanda, if English and other languages have become social languages it's because of the support of the government. "Our Pashtun political leaders and government representatives should also work for it, because Pashto is no less than any other language."
Dr Farkhanda shares that women have to face many difficulties in Pashtun society. "First of all, stepping out of the home is a big challenge for women. After that, having no support from your husband once you get married is a sad thing since as a single woman you can't move forward in any field. I've completed all my education, from my bachelors to PhD, after marriage."
Dr Farkhanda says she had great support from her father because he loved education a lot. "In our childhood when I and my siblings would cry for school, he would tell my mother not to make us cry and let us study."
She said her father had decided that his children would get higher education and time has proved it. "Today our whole family is proud of us."
Dr Farkhanda says that 'as a government employee it is difficult to take care of domestic responsibilities, but she has spared no efforts in raising her children.
"With the grace of God, presently, two of my daughters are certified doctors with the third one following their lead."
Farkhanda is of the view that if a woman works wholeheartedly with good intentions, no power in this world can block her way.
As the Pashto proverb goes: "Be Pure, Be Fearless". And another one, "Dogs keep barking, Caravans keep moving forward".
Hits: 1