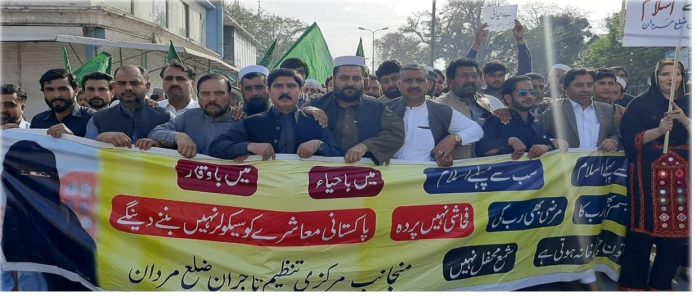 MARDAN: The function in connection with International Women's Day in Mardan had to be cancelled over propaganda on social media and warning of protests from those who oppose such functions.
Rehana Shakeel, a woman activist of Awami Workers Party, had booked the Mardan Press Club hall for Women's March Conference in connection with the International Women's Day and she had invited women from different walks of life to the conference. However, a propaganda campaign started on social media and WhatsApp groups that women would be participating in a marathon race in Mardan on March 07. The religious parties activists, traders, political workers and other people reacted strongly to the news without verifying it.
Mardan Chamber of Commerce and Industry President Zahir Shah along with religious parties gave a call of massive protest against "marathon race" outside Mardan Press Club. Due to security concerns, the cabinet of Mardan Press Club held an emergency meeting and informed the Awami Workers Party leader of its decision of not allowing the conference.
Rehana Shakeel said she was contacted by different organisations and informed about the situation developed after negative propaganda. She said when she went to Deputy Commissioner Habibullah Arif, he objected to the agenda of the conference in which criticism was made on some national institutions. She said she edited the invitation card and agenda and again contacted the administration of Mardan Press Club, but it said it can only allow the conference if the deputy commissioner takes full responsibility of security.
When asked about the controversial agenda points, Rehana told that she had not prepared the agenda. She said the agenda had sentences about effect of military operation on women's lives, problems of women in merged districts, enforced disappearances and religious extremism. She said she had assured the district administration that all "objectionable" sentences would be removed and function would be held inside the press club hall, but still the permission was not granted.
On the other hand, she said the administration allowed the rally of traders and religious parties' activists against the women's conference. She said the purpose of the conference was to create awareness about women's rights, but it was sabotaged under a well-planned propaganda campaign.
Former lawmaker Maulana Shujaaul Mulk had posted a video message on Facebook in which he had warned that he would not allow any women marathon race in Mardan. The JUI-F leader Qari Ikramul Haq had also said on social media that 'obscenity' would not be allowed in the name of women's march.
A rally led by Mardan Chamber President Zahir Shah and Jamiat Ulema-e-Pakistan Noorani group provincial president Fayyaz Khan was organised was held in Mardan which culminated into a huge public gathering. Mardan Women Chamber President Aqeela Sumbal also attended the rally.
Rehana Shakeel says she is still confident of organizing the women's conference and she would not hesitate to offer any sacrifice for women's rights.
Hits: 0