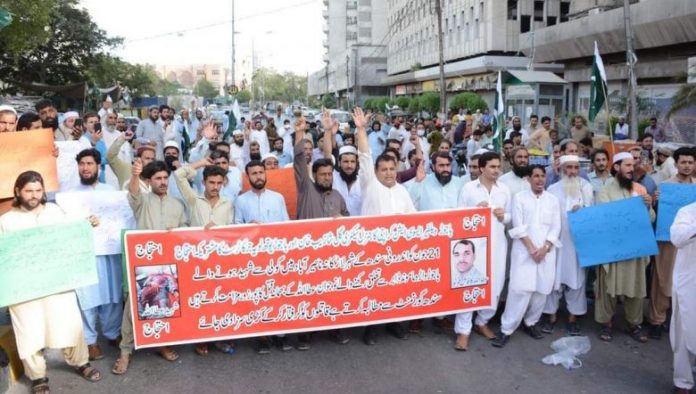 PESHAWAR: Hundreds of people belonging to merged tribal districts on Sunday held a protests demonstration in Karachi against the murder of a youth from Bajaur tribal district in Naseerabad town over his refusal to pay extortion to criminals.
The protest outside Karachi Press Club was jointly organised by Bajaur Welfare Association Sindh, Bajaur Youth Loya Jirga Trust and All Pakistan Organisation of Small Traders Cottage Industries and attended by hundreds of youth from merged districts who have gone to Karachi to find work.
The protesters said Pakhtuns, particularly the people from Bajaur, are being targeted in interior Sindh under hate crimes. They alleged that three persons from Bajaur, including father and his son, were killed in Larkana on the basis of racial discrimination two years ago, but the victim families are yet to get justice, as the killers have not been punished. They said now another person from Bajaur, Attaullah, has been killed over his refusal to pay extortion, and the killers are roaming freely. They said the criminals will continue to indulge in crimes against defenceless citizens from merged districts unless strict action is taken against them. Currently, they said, criminals are acting with impunity.
The protesting youth said they did not doubt the intentions of the Sindh government, but the current state of affairs suggests that the provincial government has failed to act against criminals. They said many people from merged districts, who were displaced due to unavoidable circumstances, are now settled in different parts of the country and they are earning their livelihood with dignity by working hard in different fields.
The protesters demanded the Sindh chief minister and inspector general of police to take concrete steps for arrest of the killers of Attaullah and award punishment to them. They said if the killers remained at large then they will be compelled to hold a massive sit-in outside the Chief Minister House.
Attaullah from Bajaur was shot dead by unidentified armed men in Naseerabad town on June 21. In February, 2019, three labourers from Bajaur were shot dead in Larkana. Sindh Police had arrested four accused involved in the murders.