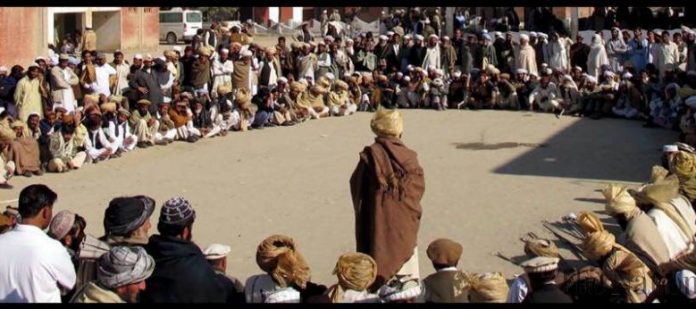 Khalida Niaz
TIRAH: A massive protest was held in Malikdinkhel area of Tirah valley in Khyber tribal district on Friday against the murder of a boy and his sister.
The relatives of the slain brother and sister also participated in the protest and said they want the previous tribal system back as under the present system, such gruesome incidents have increased. The boy and his sister were killed in the darkness of night few days ago in Malikdinkhel.
Shahid, a relative of the slain siblings, told TNN that they were alone in the house when they were murdered. He said the other brothers and sisters and their father were in Peshawar at that time for job. He said there was some jewelry and precious household items in the house when the robbers barged into the house and probably killed the brother and sister upon offering resistance. Shahid said the victim family had no enmity with anyone and the thief escaped with jewelry and agricultural produce.
Shahid said the robbers committed this crime with the help of some local elements. He said three alleged robbers have been arrested, while three are still at large.
The local residents say such kind of gruesome incident has happened first time in their area which has created fear and panic, and an atmosphere of insecurity.
A massive protest against the incident was also held on April 02 during which the protesters had blocked the Pak-Afghan Highway for all kinds of traffic. Member Khyber Pakhtunkhwa Assembly Muhammad Shafiq Afridi, Member National Assembly Iqbal Afridi, Awami National Party leader and Khyber Union leaders besides others attended the protest.
The local lawmakers had said at that time that they would raise the issue at every forum and make sure that the culprits involved in such crimes are given exemplary punishment. They said the local people want to raze the houses of alleged killers and impose heavy fines on them.
It was a tradition in erstwhile Fata that a tribal Lashkar (militia) used to attack the houses of alleged killers and raze it and also impose heavy fines on them. But now that practice has reduced after extension of judicial system to merged districts. Some people are still in favour of the old system as a means of 'quick justice'.