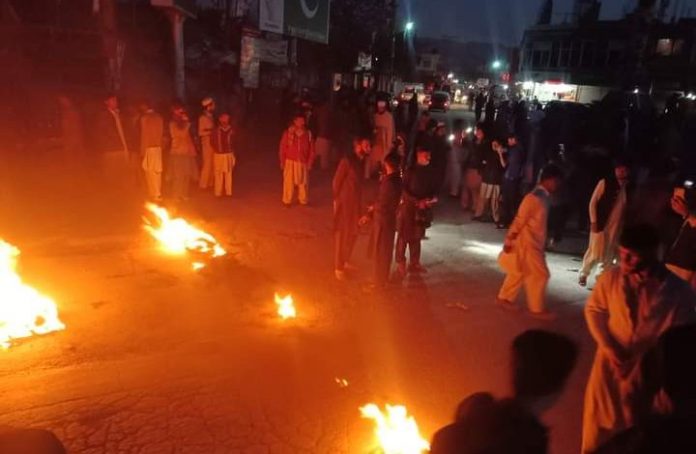 Attaullah Naseem
ABBOTTABAD: Protests erupted in Abbottabad on Saturday evening over alleged desecration of the Holy Quran by an inmate of the Abbottabad Central Jail.
According to a statement issued by the jail administration, the inmate Imran was imprisoned in an isolation cell in the jail. It said that on Saturday morning, the inmate desecrated three copies of the Holy Quran. The Central Jail Malikpura staff immediately entered the cell and retrieved the copies of the Holy Quran. The jail staff was infuriated over the incident and a quarrel started.
The jail administration said that keeping in view the sensitivity of the matter, the jail staff shifted the accused to Haripur Jail in fool-proof security.
The news about the alleged desecration of the Holy Quran spread quickly and thousands of people in Abbottabad came out of their houses and started protest. The protestors blocked Silk Route for all kinds of traffic by burning tires. The traders also observed complete shutter-down strike against the incident.
Protests were held in Fawara Chowk, Shahzada Masjid, Jail Chowk, DC office and other areas of Abbottabad. The protesters were demanding public hanging of the accused involved in desecration of the Holy Quran. They demanded that a trial against the accused must be carried out in special anti-terrorism court and the jail staff should also be investigated.
When the protests were going out of control, the police had to use teargas shells and baton charge to avoid damage to public property. The situation remained tense during the protests and the administration officials reportedly remained absent from the scene. All business and other activities came to a standstill during the protest by the citizens.
Police sources said the accused Imran is not mentally sound and he has also committed the desecration of the Holy Quran twice earlier. He was already imprisoned in Abbottabad Jail over similar charges. A case has been registered against the accused and further investigation is underway. Unconfirmed reports said the accused was also attacked by other inmates of the jail and he was rescued by the police.
A large number of security personnel were deployed in different places in Abbottabad to keep the situation under control.
Hits: 0