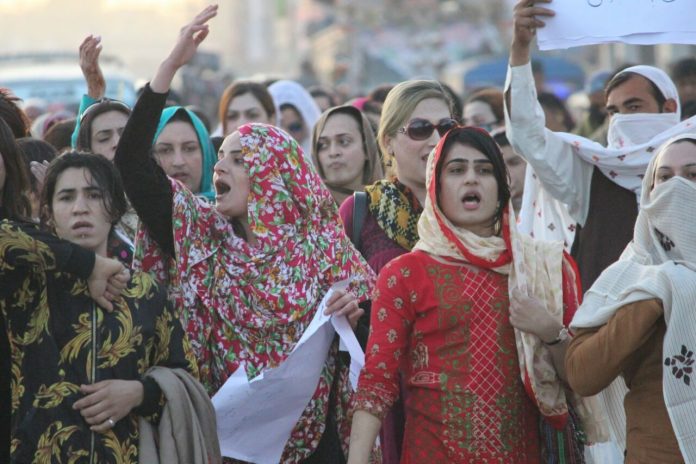 Rifaqatullah Razarwal
PESHAWAR: Transgender persons in Peshawar have staged protest for their rights, while an organisation working for the rights of transgender persons has said in its report that out of 120 such persons killed during the last three years in Pakistan, 65 belonged to Khyber Pakhtunkhwa.
Forum for Dignity Initiative (FDI) Executive Director Uzma Yaqub said while talking to TNN that the report of the organisation is based on study of media reports during the last three years and it took into account the social behaviour with transgender persons, intimidation, abuse and torture incidents.
"It is a matter of grave concern that we help transgender persons who seek alms, but misbehave with them when they try to live like normal people by getting education or doing job," she said.
Viewpoint of transgender persons
Transgender Alliance KP president Farzana told TNN that 78 transgender persons were killed and hundreds others were injured and sexually abused during the last six years. She said transgender persons did not enjoy any legal protection. She said transgender persons did not get much help at police stations, and even if they get help then weaker sections of law are applied in the FIR.
Farzana said six such incidents were reported in KP this year in which transgender persons were stripped naked and their hair were cut off over allegations of disloyalty, refusal to pay extortion or not making friendship with the accused. She said some persons made objectionable video of a transgender person in Kohat in January who was later on killed by his brothers. She said that last week a transgender person was sexually abused in Gulbahar, Peshawar, and FIR was also registered, but the victim had to take back the complaint as the accused were threatening to kidnap her brother. She said whenever they go to police station with a complaint, they are advised by policemen to quit the field of dancing to avoid highhandedness. She said the provincial government allocates Rs200 million for welfare of transgender persons every year, but not even a penny is spent on them practically.
Naina, another transgender person, says her hair were cut by the accused who are now roaming freely due to weak FIR by police. She said people no longer invite her for music programmes as she wears a cap nowadays to hide her cut off hair due to which she is in dire financial crisis.
Social organisations express concern
Social organisations in KP agree with the contents of the FDI report and say hundreds of culprits involved in crimes against transgender persons are roaming freely due to weak prosecution and intimidation of victims.
Civil Society Network official Taimur Kamal says the federal government had enacted a law on rights of transgender persons, but its scope has not been extended to provinces even after 18th Constitutional Amendment. He said media reports incidents of crimes against transgender persons more in KP as compared to rest of the country.
Under the Transgender Rights Protection Act, transgender persons will have equal rights like other citizens. They have been given right of driving licence, passport and change of gender in identity card. Harassment of transgender persons and deprivation from education has been declared a crime. The law provides for separate arrangement for transgender persons in jails and hospitals.
Legislation needed in KP
The PPP lawmaker and Social Welfare Department Chairperson Nighat Orakzai says the federal law is comprehensive, but lamented that the same is not being delegated to provinces. She said the KP government is not showing enthusiasm to bring this legislation into the KP Assembly.
Nighat Orakzai said transgender persons are the most badly-treated people in our society who face highhandedness from own families, law enforcers and society at large. She said either the federal law on rights of transgender persons must be extended to KP, or the province must make its on law about this important issue.
Hits: 0