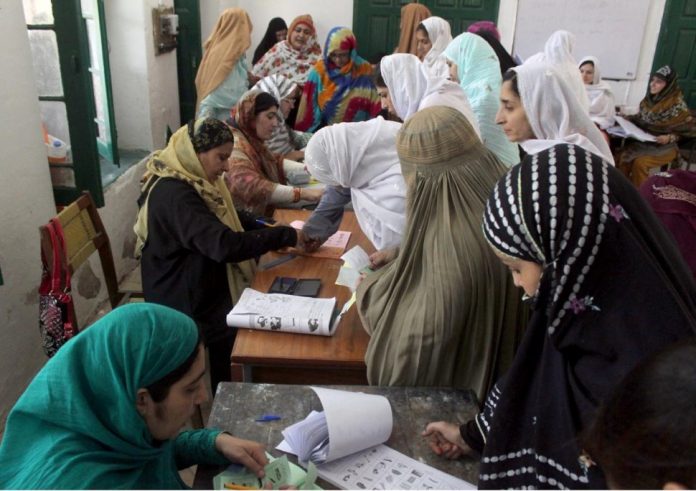 Rifaqatullah Razarwal
PESHAWAR: The Election Commission of Pakistan (ECP) says 10 percent reduction has been witnessed in registration of women voters in 80 percent districts of the country, including 11 districts of Khyber Pakhtunkhwa.
Experts keeping an eye on women's rights say the main reason behind low registration of women voters is the difficulties faced by women in obtaining their computerised national identity card (CNIC) besides cultural and social barriers.
Dr Darwaish Afridi, Professor at Gender Studies Department of the University of Peshawar, says women have low interest in voter registration as the government is not doing enough in this regard. "Our society has not given the education and insight to women which they deserve," she said while talking to TNN.
Prof Darwaish said it is imperative to provide civic facilities to women from rural areas. He said it is the responsibility of state to provide education and enlightenment to women. He said more focus is made on security issues, but women's issues are being ignored and they are not being made part of the decision-making process.
Prof Darwaish said that men can play an important role in women empowerment by allowing them rights and independence. Particularly in conservative set up, he said, men need to be convinced to allow voting and other rights to women. He said women voter registration can improve if the CNIC making process is made easier.
According to Free and Fair Election Network (Fafen), which works for transparent elections in Pakistan, there is a difference of 12.9 percent in male and female voters in KP, and this difference is at 14.4 percent in Balochistan.
Fafen Director Programs Mudasir Rizvi says the number women voters is less by 12,500,000 in Pakistan than male voters. He said the cause of low women voters is the difficult process of obtaining the CNIC. He said National Database and Registration Authority (Nadra) must take steps to improve this situation. He said Nadra mobile vans can be used for providing CNICs to women at their doorstep.
The Election Commission says it is committed to play its role in ending disparity in ratio of male and female voters. It says improvement in women voters ratio was witnessed in 2020. However, the gap is still wide which needs special efforts for improvement.
Hits: 0