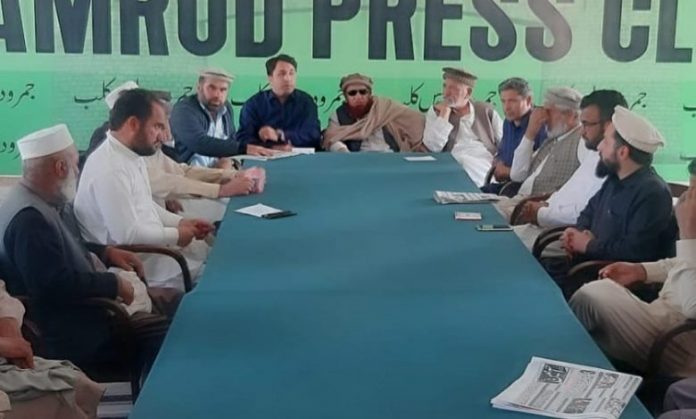 JAMRUD: The elders of Kokikhel tribe in Khyber tribal district have called upon the government to restore the jobs of polio workers who were expelled earlier.
The demand was made by the tribal elders including Malik Pervaiz, Malik Noor Mirza, Haji Muhammad Amin, Ashfaq Afridi, Umar Afridi and Ibrar Afridi while addressing a press conference at Jamrud Press Club on Monday.
The tribal elders said the polio workers performed their duties in merged tribal districts under difficult circumstances. They said the polio workers also gave many sacrifices in a quest to ensure provision of vaccination to each and every child below the age of five years. They said the polio workers ensured implementation of every plan and campaign and fulfilled all the conditions of the authorities, but they were removed with a single stroke of pen which rendered them jobless and they are now unable to support their families. They said most of the sacked polio workers came from humble background and they were the sold bread winners for their families. They said that unemployment is bringing countless difficulties for such poor families.
The Kokikhel elders demanded the government to restore jobs of polio workers within one week. They warned that the Pak-Afghan Highway would be blocked at Bab-e-Khyber and strong protest would be staged if the sacked polio workers were not restored.
Earlier in January, the people of Dars Jumat area of the remote Tirah valley announced boycott of the polio vaccination campaign.
TNN correspondent reported that the people of Dars Jumat from Akkhel tribe held a protest demonstration to pursue their demands of survey of damaged houses during militancy and military operation, provision of mobile and internet facility and provision of other basic facilities. A large number of people participated in the protest and chanted slogans against the government.
The protesters said their area is deprived of basic facilities of education, healthcare, mobile and internet service, clean drinking water, roads and electricity even during this modern era. They said they offered many sacrifices for peace in the region and houses of many people were damaged and they are compelled to live under open sky.
Hits: 1