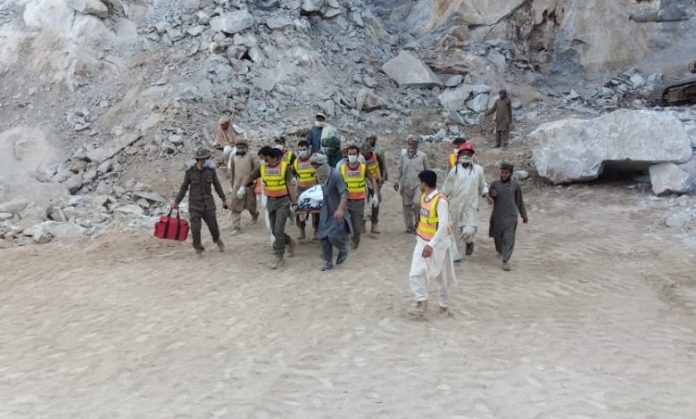 Naseebyar Chagharzai
BUNER: The bodies of two labourers, who died in a marble mine collapse in Salarzai area of Buner four days ago, have been retrieved after hectic efforts of four days.
The Rescue 1122 personnel with the help of local people completed the operation. The incident happened four days ago when a marble mine collapsed and trapped two labourers. Police said the incident had happed around 4:00pm and police personnel arrived at the scene within half an hour and took part in rescue activities.
The rescue operation was very difficult as no one was able to locate the exact position where the bodies were supposed to be found and there was no machinery to remove huge boulders and there was no route either to dispatch machinery. An excavator was dispatched at the site of the mishap within 24 hours which gave a brief hope to the families of the trapped labourers, but it proved too little too late.
The rescue work was mostly carried out by the labourers as they used to blast big boulders and then excavator was used to remove debris. People present at the site said they requested the deputy commissioner for more help but he replied that the responsibility of removing the debris lies with leaseholder. The fuel charges for machinery and all expenses of labourers busy in rescue work had to be borne by leaseholder.
Assistant Commissioner Hammad Haider, when informed about the sentiments of people about the insensitivity of the district administration, replied that he is not a political leader and he is not answerable to general public. The body of a labourer hailing from Swabi was recovered 36 hours after the operation, while the second body was found after four days. The second victim belonged to Bagh village in Khadokhel tehsil. Both bodies were shifted to ancestral villages by Rescue 1122.
The Rescue 1122 Buner spokesman told TNN that disaster management teams from Buner, Mardan, Swat and Swabi took part in the rescue operation.
A local leader of the Jamaat-e-Islami, Gul Muhammad said the families of the victim labourers must get compensation. He said most of such tragic incidents happen in marble mines due to negligence of concerned authorities.
Hits: 0