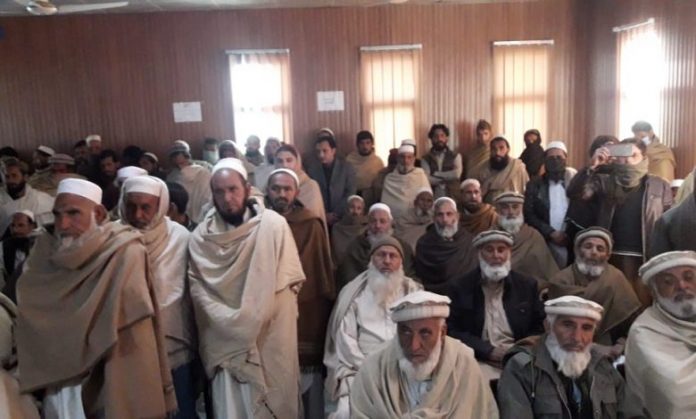 BARA: The rivalry between two tribes in Khyber tribal district has intensified and it is feared that it may lead to some untoward happening if timely intervention was not made to avert it.
The Mirghatkhel tribe has alleged that one of its members has been killed in broad day light by members of Maroofkhel tribe and one house has also be razed, but the police and local administration have not taken any action against the culprits.
The elders of Mirghatkhel tribe said while addressing a press conference at Bara Press Club on Wednesday that the members of Maroofkhel tribe attacked their houses. They said the security forces arrested the attackers and handed them over to local administration.
The tribal elders alleged that the some elements in Maroofkhel cut the electricity supply of Yousafsaz village of Mirghatkhel which further aggravated the situation, while the administration has chosen to ignore the issue. They further alleged that his tribe gave mountains on lease, but after 10 months, the Maroofkhel tribesmen attacked the mine of Mirghatkhel and caused massive losses. They said despite registration of first information report (FIR) about the incident, no action was taken against the culprits, which has left the Mirghatkhel tribe extremely concerned.
The elders of Mirghatkhel said hundreds of armed members of Maroofkhel attacked a house in Yousafsaz area on December 25, 2020 and razed it and also damaged some other houses partially, but the administration did not move. They further alleged that one member of Mirghatkhel was also killed in attack by Maroofkhel tribesmen and still the administration remained unmoved and no arrest was made. They alleged that some former members of banned outfit, who have apparently surrendered to the state, have now become part of such militias who attack the houses of other people and create unrest, and promote extremism. They said action against such elements must be taken before it is too late.
The Mirghatkhel elders have called upon the district police officer, capital city police officer Peshawar, inspector general police Khyber Pakhtunkhwa, IG Frontier Corps and corps commander Peshawar to take action against negative elements in Maroofkhel tribe as they are spoiling peaceful environment in the area.
Hits: 9