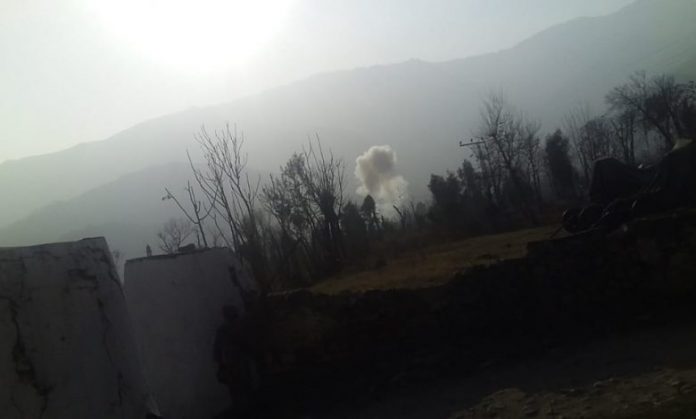 KHAR: Rockets fired from Afghanistan landed in civilian areas of Bajaur on Monday.
However, no life loss was reported in the rocket attacks. TNN correspondent reported that the rockets fired from Afghanistan landed in Mulla Killi an Laghrai Bazaar areas near the Pak-Afghan border.
The estimate of losses in the rocket attack was being conducted. The Pakistan Army troops were responding to the attacks in a befitting manner. Security sources said efforts are being made recently by terrorist based in Afghanistan to launch cross-border attacks. Several attacks have been made from across the border in which several innocent people have lost their lives.
On January 06, a Frontier Corps (FC) soldier was martyred in cross-border attack from Afghanistan in Mohmand tribal district.
According to the Inter-Services Public Relations (ISPR), terrorists from Afghanistan fired across international border on a military post in Mohmand district. The FC troops from Pakistan responded promptly. During exchange of fire, FC soldier Sepoy Fazal Wahid, 25, resident of Shangla district of Khyber Pakhtunkhwa, embraced martyrdom.
On October 14, 2020, a soldier of the Pakistan Army embraced martyrdom, while another was injured in a cross-border attack in Bajaur tribal district.
The ISPR said that terrorists based in Afghanistan opened fire on the Pakistan Army post along Pak-Afghan border in Bajaur. The martyred soldier was identified as Havaldar Tanveer. The outlawed Tehreek-e-Taliban Pakistan (TTP) claimed responsibility for the attack.
On July 29, 2020, a soldier was martyred in a cross border attack by terrorists from Afghanistan.
On July 14, 2020, a girl was injured when a mortar shell fired from Afghan side landed at a house in Bajaur.
On July 01, 2020, one person lost his life in a bomb blast in Mamond tehsil. Police said a bomb planted near the shop of a citizen, Muhammad Tahir, went off due to which the 60-year-old watchman, Kawal Khan, lost his life.
On June 28, 2020, three persons were injured in Charmang tehsil of Bajaur in firing from Afghan side.
On May 27, 2020, one person was killed and a girl was injured after a mortar shell fired from Afghan side landed in Salarzai tehsil of Bajaur.