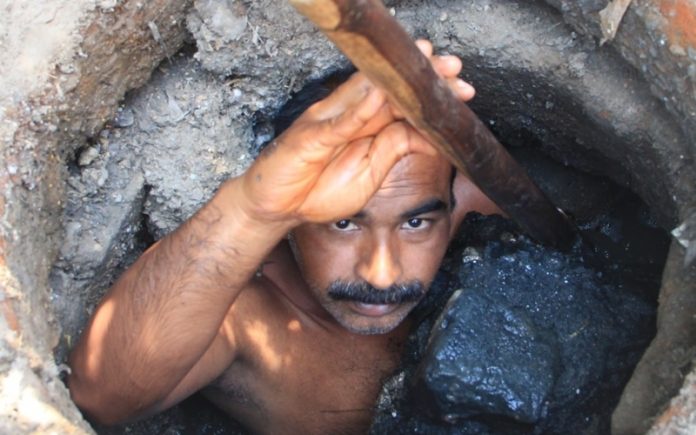 Attaullah Wazir
PESHAWAR: Sanitary workers are the people who keep our bazaars, cities and towns clean. Around the globe, the government authorities recruit workers for cleaning their cities. Sanitary work is one of the most toilsome and hazardous works, especially in Lahore, due to poor working conditions of the sanitary laborers and lack of proper mechanism and training.
"When I descend into the 25 feet deep gutter, I don't know whether I will come back intact or not," says Pervaiz Masih, a sanitary worker.
Mostly gutters and main-holes are about 15 to 25 feet deep underground. Our workers descend into the manholes with the help of a rope along with a bucket in their hands. They have to clean out the clogged sewer lines. During unclogging the gutters or manholes they confront different stinking and toxic gases," Muhammad Ali, a former councilor, said.
The area where he works is industrial zone where many factories operate. The factory owners use different chemicals for pruning and refining metals. These chemicals and waste byproducts create serious skin diseases and make sanitary workers vulnerable to different health problems.
Pervaiz Masih lives in Joseph Colony of UC-23 , the most dense union council in Lahore with 23000 population. There are only four sewer workers in the Joseph Colony and its adjacent areas. The workers require adequate equipment while descending to gutters. These include face mask, oxygen cylinder, glows, gas detectors, dry suits and shoes which they do not have, unfortunately.
"It has been three years since we have not been provided with uniform and shoes," Muhammad Ali told said. When they clean out the clogged sewer lines, their lives are not without danger and risk. Sometimes they are surrounded with swarms of cockroaches, drained with filthy water and urines coming out from toilets. A recent study published by Center for Law and Justice reveals that 70 sanitation workers died during work in 2019 alone. Deaths are also caused by exposure to poisonous gases while unclogging sewer lines.
"Every sewer worker receives 32,000 per month excluding an additional risk allowance of 10,000. Other sanitary workers have far less than that. With this salary, I cannot afford the expenses of my children to send them school," Pervaiz added. Only sewer workers can get government medical facilities, the remaining workers can not avail this facility.
A recent report reveals that 80 percent of the sanitary workers are Christians while the remaining 20 percent are low caste Hindus and Muslims.
There is no fix working hours and proper procedure for sanitary workers. Although, daily working hours are eight, but here the case is different. For example, when it rains they have to be available on the spot to prevent any mishap, even if they have performed their eight hours duty. They are not compensated for overtime work which falls in 'Forced labor without compensation' that is illegal and punishable as well, according to the Constitution.
Mumtaz Maryam is a Christian widow and her husband has succumbed to his disease two months earlier due to lack of medical facilities. Once, I along with my daughter went to bazaar for shopping, at the entrance of a store two young boys scornfully called us O' churhy, (a word used for dirty to sanitary workers) she said. Notwithstanding the hazardous nature of the work they perform, they have been the victims of discrimination on the basis of religion as well as caste basis. Firstly, last year in July an advertisement was published in a newspaper in which it was mentioned that 'only Christians can apply'. Hence it is proved that the discrimination is encouraged. Secondly, sanitary workers are recruited in BPS-1 (Basic Pay Scale 1) and also retire in the same scale. In spite of years' service, there is no elevation to higher scales. Lastly, now Muslims are being incorporated in the profession. They refuse to get down into the sewer lines that is why they are given the suitable positions in the field.
There are so many other problems to sanitary workers. For example there is no specific quota for the retired sanitary workers. When they retire, their posts are occupied by other people. Mostly sanitary workers live in slums because, like other corporations, they have no government residential colonies. They are unacceptable in the society and are considered as untouchable because of their work.
We urge the government to take immediate action on the issues sanitary workers have. The LWMC and WASA should ensure the provision of all required equipment they need for better and safe working. They should be provided government residences and medical assistance. The LWMC should adopt the policy of elevation in ranks, so their sense of being exploited by the authority be ceased. Every sanitary worker's salary should not be less than 70,000, keeping in view their exposure to health problems, especially respiratory diseases.
Hits: 5