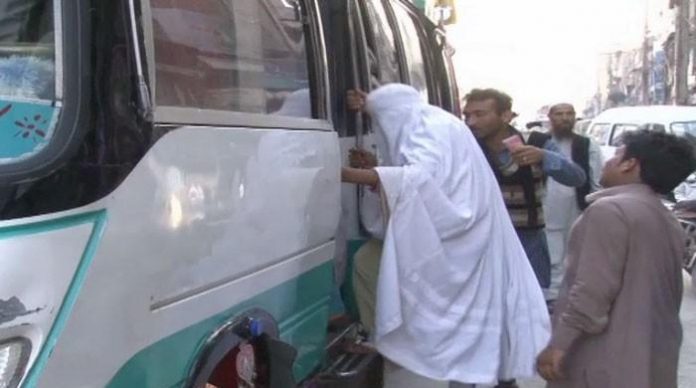 Amna Istemraj
MARDAN: Schoolgirls often face harassment at public transport and the problem continues even after completing education and during a job. Such is the nature of our society that every woman going outside her home for education or job faces harassment and difficult environment.
These views were expressed by Saika Shah, a private school teacher from Shahbaz Garhi area of Mardan. Saiqa told TNN that she is fed up of regular harassment at public transport, but endures it for the sake of supporting her family. She said many other teachers have hired special vehicles for going to duties, but she can't afford such vehicle and travels on public transport due to low salary.
"Discussing harassment with anyone is not the easiest of things as this results into social repercussions and often proves counterproductive," she said.
Saika said three of her former colleagues had to leave jobs as they were fed up of harassment. She said public transport is easily available in Shahbaz Garhi, but not in all parts of Mardan.
According to a survey of Aurat Foundation, an NGO working for women's rights, about 90 percent women face harassment at public transport and 82 percent women face different kinds of harassment at bus stops. Harassment tactics include different kinds of inappropriate signals, staring, whistling, inappropriate comments and even touching.
The survey report said most of the women being harassed at public transport are aged between 20 and 29. 62 percent women are harassed by other passengers and 97 percent by drivers and cleaners. The report said regular harassment causes inferiority complex to women and they face difficulties in their jobs and other tasks.
Saira Khan from Gojar Garhi says she is living in a private hostel in Sheikh Maltoon Town and faces difficulties in finding public transport while travelling to university.
"People roam here and there around us when we wait for a rickshaw and then people on motorcycles follow our rickshaw just to tease us," she told TNN.
The Regional Transport Authority Mardan had run pink bus service for women to resolve their problems but that service came to a halt due to various reasons. Saira had taken admission in the university hoping that she would have comfortable journey in pink bus, but it was closed after few months. She said suspension of pink bus service was a bad omen for women passengers and they are now depending again on public transport which is the most unsafe option for women.
Mardan Transport Authority Regional Secretary Mujeebur Rehamn said the pink bus service failed due to improper planning. He said few women come out of their houses in Mardan that is why pink buses did not have enough women passengers. He said front seats at public transport are specified for women only and anyone violating this rule face action.
The local people said resumption of pink bus service for women in Mardan can prove helpful in reducing problems of women passengers.
Hits: 0