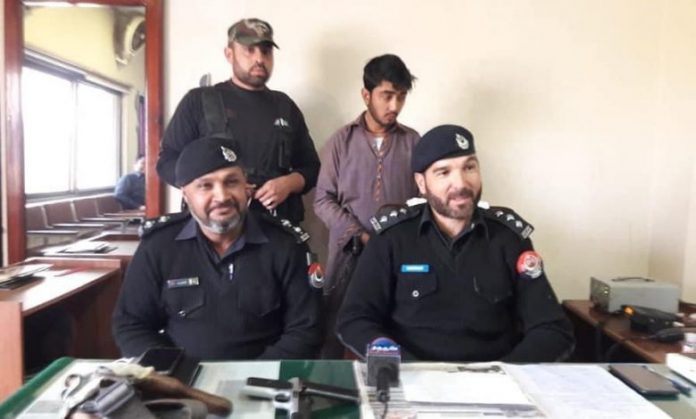 SWABI: Swabi Police have arrested an accused involved in sexual abuse of a five-year-old boy within an hour of filing of case.
Police said the accused Shaharyar Bahadur took five-year-old boy Wasif Ali to a deserted place on pretext of flying kites in Ismail Abad area of Panjpir union council and abused him sexually. The little boy was injured during sexual abuse after which the accused left him there and escaped.
The father of the victim child was in the Judicial Complex for a case proceeding in the court at the time when the incident happened. He came to know about the incident after coming home and immediately contacted police.
Station House Officer (SHO) Ajab Khan Durrani along with his team took immediate action and arrested the accused within an hour. The police produced the accused in the local court for legal proceedings.
Police appealed to parents to keep their children under strict observation to avoid such unfortunate incidents. It said parents must immediately inform police in case of any such incident so that quick action could be taken against culprits. Police said it is has zero tolerance against such incidents and works hard for ensuring strict punishment to culprits involved in such heinous crime. It also appealed to Ulema, media and social organisations to play role for creating awareness among the people about this important issue.
Sexual abuse of children is continuing in Khyber Pakhtunkhwa and rest of country despite introduction of strict laws by the government to punish the culprits. Increasing incidents of sexual abuse in KP have left the parents extremely worried and they remain fearful even while sending their children to schools and madrassas.
On February 09, a three-year-old child was sexually abused in Swat.
Local sources said the victim child Uzair was allegedly sexually abused in Abuha area of Barikot tehsil in Swat district.
People of the area expressed grave concern over the incident and said the incidents of sexual abuse of children are increasing in Barikot to an alarming extent. The sources said it was fifth reported case of sexual abuse in Barikot which is a matter of grave concern for parents.
Hits: 0