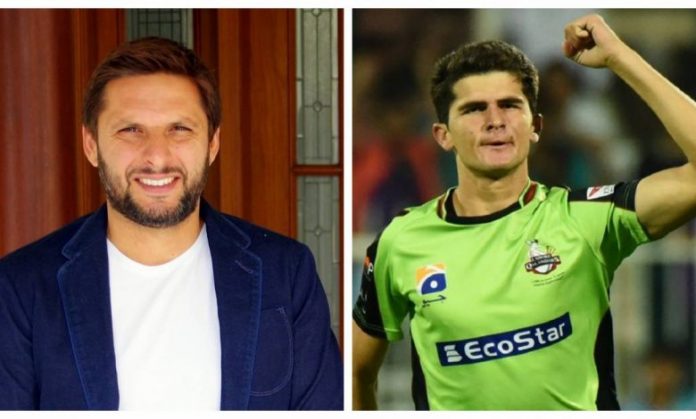 PESHAWAR: Pakistan's former captain Shahid Khan Afridi has confirmed that his daughter is engaged to star bowler of national cricket team Shaheen Shah Afridi.
In an interview with a private news channel, Shahid Khan Afridi, who was arguably among the best all-rounders in Pakistan's history, said that the family of Shaheen Shah Afridi had been bringing the proposal for the last two years and it was under discussion in his own family. The former captain said that he took the consent of his daughter before saying yes. He said that his daughter recently completed her FSc. He said his daughter wants to become a doctor and at present, it is not decided whether she will pursue further education in Pakistan or England.
Shahid Afridi explained that there are eight sub-tribes of Afridis and he and Shaheen Shah Afridi belong to different sub-tribes.
Earlier in March this year, Shaheen Shah Afridi's father Ayaz Khan Afridi had told the media that his family had a longstanding relationship with the family of Shahid Khan Afridi and they had sought the hand of Shahid Afridi's daughter for Shaheen. He had said that Shahid Afridi's family had accepted the proposal. He had said that an engagement ceremony would be held later.
The news about Shaheen Afridi becoming would-be son-in-law of Shahid Khan Afridi spread like a wildfire hometown of Landikotal at that time. His friends and relatives had distributed sweets and displayed fireworks to celebrate the occasion.
The news was initially shared by some socially media users on March 07. The news was first confirmed by a brother of Shaheen Shah Afridi when TNN contacted him.
In March, Shahid Khan Afridi through his Twitter account confirmed the approach of Shaheen Shah Afridi's family to him with a marriage proposal.
"Shaheen's family approached my family for my daughter. Both families are in touch, matches are made in heaven, if Allah wills this match will be made too. My prayers are with Shaheen for his continued success on and off the field," the former captain had said.
Replying to Shahid Khan Afridi's tweet, Shaheen Shah Afridi, the youngest bowler to take 100 T20 wickets, had said, "Alhumdulillah. Thanks Lala for your prayers. May Allah SWT make things easier for everyone. You are the pride of entire nation."
Hits: 0