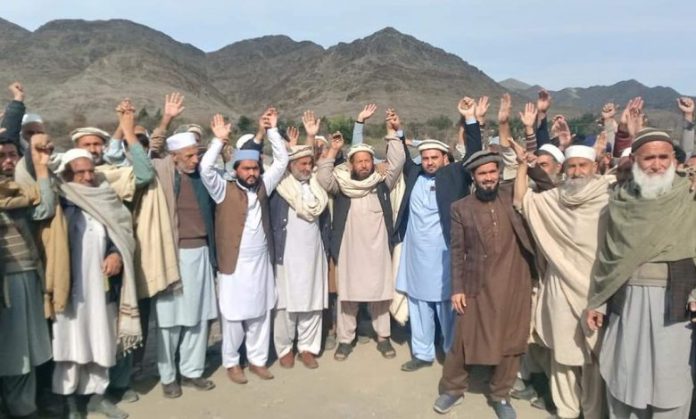 BARA: The people of Shalman tribe on Thursday staged a protest demonstration against shifting of Shalman water supply scheme to Mallagori, Shaheed Mena.
The protest, which was attended by hundreds of tribesmen, was addressed by tribal elders Ali Wahab, Subedar (Retd) Sharif, Muhammad Wali, Malik Arab Shah, Dr Sajjad and other notables who said that no big project has been completed since the creation of Pakistan. They said a water supply project was finally approved for Shalman and Shinwari tribes under which water was to be supplied from Shalman Kabul River to Landikotal. The project was to create jobs for the people of Shalman tirbe and also a separate electricity feeder which was supposed to address the problem of power load-shedding to a great extent.
The protesting tribesmen said the project was named Shalman water supply scheme, but not its shifting to Mallagori is beyond comprehension. They said Prime Minister Imran Khan during his visit to Khyber tribal district had congratulated the people about Shalman water supply scheme. They said Khyber Pakhtunkhwa Chief Minister Mahmood Khan and Federal Minister for Religious Affairs Noorul Haq Qadri, who also hails from Khyber district, had also talked about Shalman project at various occasions. They said promises were also made with the elders of Shalman tribe about provision of jobs to the youth and establishment of a separate electricity feeder for them. However, they said, the project is being shifted to another location under a conspiracy, which is a huge injustice.
The tribal elders said roads are in extremely dilapidated condition in Shalman, there are no facilities in schools, internet facility is not available, and in short, the area is deprived of all basic facilities. They said a mega project was approved for Shalman after struggle of many years, but now it is being shifted to another area, which has caused grave concern among the people.
The protesters said they would intensify their protests if the survey in Mallagori was not halted immediately. They demanded the government to bring back the project to its original location to facilitate the people and address their sense of deprivation.
Hits: 0