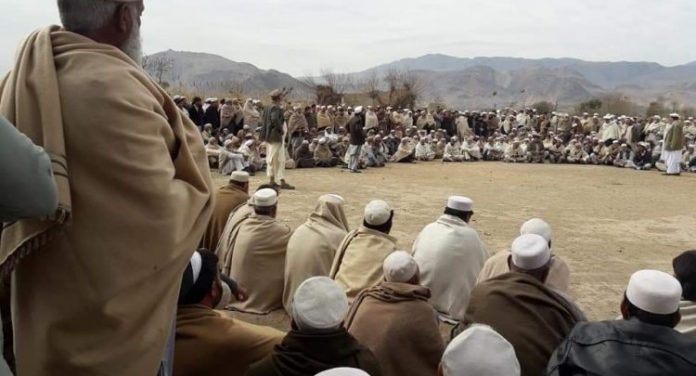 BARA: The members of Shalobar tribe on Wednesday held a Jirga against the razing of house and setting fire to their vehicles by the rival tribesmen over a land dispute in Secretary Pull area of Bara, Khyber tribal district.
The Shalobar tribesmen said members from the rival tribe demolished a house and set on fire their vehicles over a land dispute two days ago. The Jirga members decided that Shalobar tribe will fully observe Tiga (ceasefire) till the end of the deadline as requested by the elders of Afridi tribes.
The Jirga participants thanked the elders of Sepah, Akakhkel, Kamarkhel, Bar Kambarkhel and other tribes, Member Khyber Pakhtunkhwa Assembly Shafiq Afridi and others who sat with them for peaceful resolution of the issue. The Jirga decided not to take any retaliatory action and fully probe the issue. It decided that further action will be taken after fully ascertaining the whole issue.
A house was razed, while two motorcycles and a chingchi rickshaw were set on fire over a land dispute in Bara on Monday.
Local sources said no casualty was reported in the incident. The sources said the members from Shalobar and Zakhakhel tribes clashed over a land dispute near Secretary Pull area in Shalobar. The sources said the members of Zakhakhel tribe demolished a house of Shalobar tribe and also took away a car.
On January 01, a house was razed by a mob over a land dispute in Baizai tehsil of Mohmand tribal district.
Two rival tribes came face to face after the house demolition, but the local police with the help of tribal elders brought the situation under control and managed to keep the situation calm.
The Mohmand house razing incident happened three days after a qaumi lashkar (group of volunteers) of Zalikhel tribe demolished and set on fire two houses in Azam Warsak area of Wana, the main town of South Waziristan tribal district.
Local sources said the incident happened in presence of police personnel and officials of the district administration. Zalikhel tribe had declared Haji Khan Badshah Sarkikhel and Lashta Khan Karaykhel as tribal convicts and announced a verdict of demolition of their two fortress-like houses. The demolition was carried out after talks between elders of Zalikhel tribe and police ended without any outcome.
On December 12, the house of an accused, who allegedly killed and set on fire the body of a seven-year-old girl in Peshawar, was razed and set on fire by the local enraged people.
Hits: 0