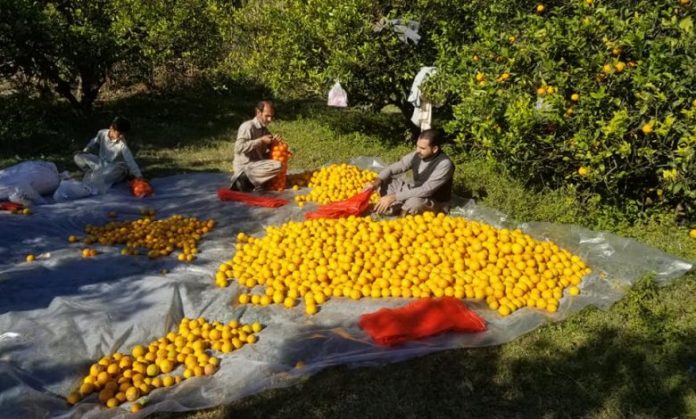 Tariq Aziz
SHANGLA: The tasty orange from the orchards of Palai area of Malakand has reached the markets of Khyber Pakhtunkhwa and rest of country. The quality and taste of Palai orchards orange is considered unmatchable and experts believe that it might even turn better than the orange of Shangla orchards in coming years.
Orange from Shangla orchards is also very tasty, but the quantity is not so large that it could be transported to other parts of the country.
Abdul Basit, an orchard owner in Keri area of Shangla, says the orange of his orchard can compete in quality with the orange of Palai in Malakand. He said orange orchards are no longer limited to Malakand, Nowshera and surrounding areas, and now orchards are also growing in Shangla due to increased demand and good price. He says he sold his orchard fruit having 1,300 trees for Rs450,000 this year.
"This year the yield was better, but the size of orange was relatively small. It is normal with orange orchards that when the quantity increases then the size decreases and vice versa," Abdul Basit told TNN.
Many stalls set up by orange sellers could be seen on Bisham-Swat Road to attract customers. Siddique Akbar, a stall owner, says his orchard is relatively smaller so he sells orange on his own rather than going to some dealer. Currently, the rate of per dozen orange varies from Rs150 to Rs180 as per quality. Siddique says selling orange directly to customers is more beneficial than going for middleman.
In Keri, people not only do orange business, but also send it to family members and friends as gift.
Anwar Aziz, owner of a small orchard, says he earns well from his orchard even after gifting a good quantity to relatives and friends.
Sardar Wajid, a guest who was visiting Anwar's orchard, told TNN that he had never seen so many orange orchards in Shangla earlier. While eating an orange, he said the taste of orange from Shangla orchards is amazing. He said the climate change has impacted the routine crops badly and farmers will have to go for alternate methods to get benefit from their lands. He said orange orchards will not only bring financial benefit for farmers, but also reduce the impact of climate change.
Many people in Shangla, who used to grow wheat and maize, have now switched to growing orchards.
Shahid Ahmed, an orchard owner, says the practice of growing orange orchards started in Shangla in 1993-94 after which he also did this experiment and it was a phenomenal success. He said the wheat and maize crops are no longer viable due to uncertain availability of water.
Danish Khan, a local resident, says the trend of traditional farming is changing now as people don't have time for it and many people who were associated with farming are now doing jobs and businesses. In this changing scenario, he said, growing orchards is comparatively an easier option.
Shakir, a fruit dealer, says he has bought 16 orange orchards in different areas of Shangla which have about 20 to 30 million oranges. He says he would store orange in Swat for a month and then supply to markets in Batkhela, Peshawar, Lahore and Karachi. He said the price will increase after one month and he is hoping for good profit.
Hits: 1