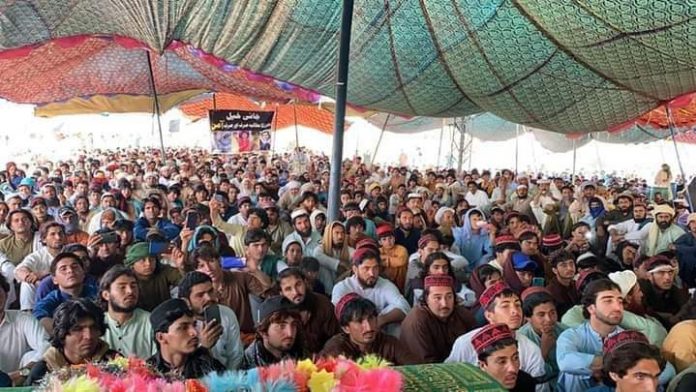 BANNU: The sit-in of Janikhel tribesmen against the murder of a member of the peace committee continued for 10th consecutive day on Wednesday as talks between the administration and tribesmen failed again.
The protesters kept the body of the slain peace committee member outside Janikhel Police Station and staged sit-in. Local children are also participating in the sit-in in extreme hot weather.
Police have blocked all the roads leading to Janikhel through containers to stop the sit-in and march towards Islamabad which is announced by the tribal elders. Polio vaccination campaign has also been suspended in the area owing to uncertain situation. Police and Frontier Corps (FC) personnel have also been deployed at various areas to keep an eye on security situation.
The sit-in participants are demanding the government to implement the eight-point agreement which was finalized with them by Chief Minister Mahmood Khan. The administration and police are also stopping many people from attending the sit-in.
The Awami National Party (ANP) provincial president Aimal Wali Khan has already announced to attend the sit-in.
Protest against load-shedding
Hundreds of students of Government Primary School Dharmakhel in Bannu held a protest against power load-shedding in during extreme hot weather.
The students were holding posters on which demands regarding installation of solar panels and other problems were written.
The school in-charge told TNN that children are facing problems in load-shedding amid extreme hot weather and a day earlier, two girls and teacher nearly fainted. She said fans are not provided in all rooms of the school and load-shedding has further aggravated the situation.
The school in-charge said there are 400 girls in the school, but it has been ignored in the survey for installation of solar panels. She said she has brought the issue into the notice of concerned authorities, but nothing has been done. She said solar panels must be installed in the school to protect students from intense heat.
Keeping in view the difficult situation, the Khyber Pakhtunkhwa government has reduced the timing of primary schools in the province from 7:00am to 11:00am.
KP Minister for Elementary and Secondary Education Shahram Tarakai said on Twitter that the timing for students from grade 6 to 12 will be from 7:00am to 11:30am.
Hits: 0