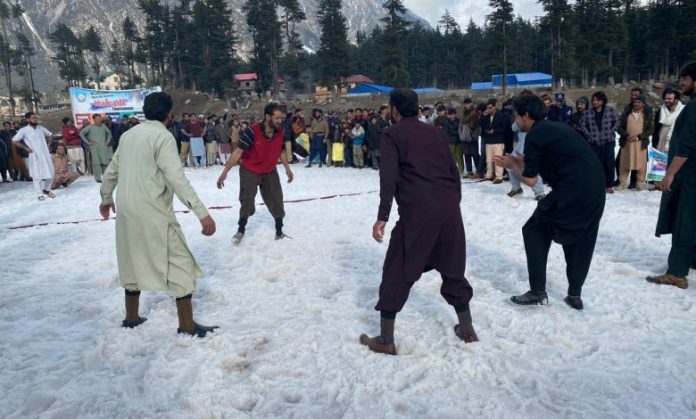 Shahzad Naweed
SWAT: Snowfall starts in the picturesque Swat valley with the advent of winter and a large number of tourists from different parts of the country start arriving there to enjoy the lovey scenery and weather.
After regular snowfall in Upper Swat, some areas like Kalam have received up to two feet snowfall. People are mostly confined to their homes in Upper Swat these days due to harsh cold weather. The local youth have adopted a novel way for their entertainment in Kalam by converting the snow-covered ground into a playground and introducing a new form of kabaddi which is locally known is 'snow kabaddi'.
Every year in January, when winter is on its peak, the ground for snow kabaddi is set in the picturesque Kalam valley. The snow kabaddi tournament is participated by six or eight teams. This year, the youth of Kalam organised Snow Kabaddi Championship in which the local youth and other people participated with great enthusiasm. More participation of youth was seen in the event this year as compared to the events of the last two years. This year's tournament was participated by six teams hailing from Kalam and adjacent areas.
At a time when temperature was below freezing point in Kalam, the youth in the area participating in the sports events provided great entertainment to the people and tourists with their wonderful display of skills and passionate participation in the event. A large number of spectators also came to enjoy the event and the activity added to the overall beauty of the area.
Ilyas Jan, a local kabaddi player, said while talking to TNN that he also plays kabaddi during summer, but the experience of playing it during winter was fascinating.
"During the game, we never felt cold and the ground was so soft with two feet snow where chances of injury were minimal," he said.
Tournament organiser Abdul Aziz said people are usually confined to their homes during winter which is not an ideal scenario. He said the idea of organizing snow kabaddi tournament came to attract the youth towards healthy activities and provide entertainment to local people.
He said the event also helped boost tourism in the area during winter. He said the sport can be promoted on higher level if the government provides assistance.
Hits: 0