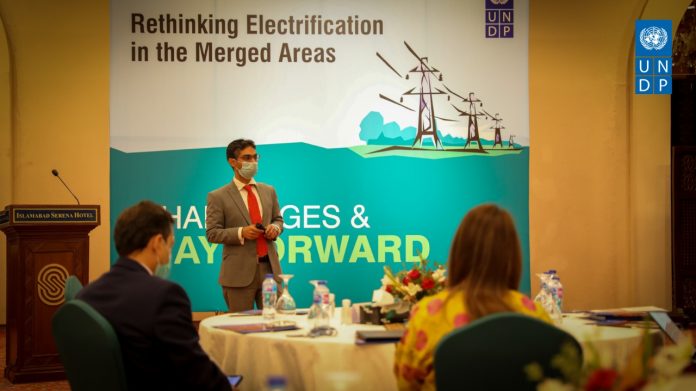 PESHAWAR: It is vital to rethink electrification strategy in the merged areas beyond Tribal Electricity Supply Company (TESCO) grid-connected operations and to help erect a vibrant, fair, and equitable market for a distributive generation that can supplement grid electricity, a study by the UNDP's Merged Areas Governance Project (MAGP) suggests.
Merged Areas Electrification Diagnostic Study was launched in an event held in Islamabad by the United Nations Development Programme (UNDP) entitled "A dialogue on Rethinking Electrification in the Merged Areas. The event was joined by the senior government officials from concerned departments, officials of the National Electric Power Regulatory Authority (NEPRA), the Alternative Energy Development Board, and representatives of the UNDP and World Bank, says a press release.
Talking about the findings of the study, Khurram Lalani, Lead Researcher MAGP-UNDP said that the study is the outcome of extensive consultations with the stakeholders and relevant institutions, and 200 interviews were conducted in seven tribal districts, primarily targeting entities including households, schools, hospitals and commercial areas.
Merged districts rely on TESCO for electricity distribution that covers 57.3 percent of the 5.3 million population. TESCO gets Rs18 billion per year in power subsidies from the federal government since merged areas have an exemption from electricity charges, which will remain valid till 2023. However, this provision from the government hardly benefits local residents, as electricity demand is approximately 800 megawatts while TESCO fulfils only 200-250 (MW) of it. A shortfall of 600MW results in load shedding of 18-22 hours a day. Consequently, the local residents are compelled to look for alternatives.
The study revealed people from merged areas have welcomed distributive energy resources, especially the solar power. "Today, the area represents a community that is connected with solar energy (the only exception is industrial consumers). Whether they are commercial markets, domestic consumers, hospitals, or schools, nearly everyone is connected with solar power. Families, markets, hospitals, and schools have adopted the technology at the heart of their daily life."
The study highlights on-grid challenges like weak transmission networks, outmoded high transmission lines. Also, more than 90 percent of TESCO's domestic consumers have no meters installed. This results in a lack of accounting framework at Common Delivery Points (CDPs) and making it difficult to prioritize investments on lines, transformers, and grid stations in absence of concrete data. The off-grid challenges include the use of low-quality solar products, lack of technical expertise in installation and maintenance, which contributes to an increased cost.
It suggests corporate management of TESCO and off-grid financing arrangements such as the introduction of a Public-Private Partnership (PPP) approach with a viable transaction structure to distribute Solar Home Systems (SHS), awareness campaigns for proper maintenance and operation of solar systems to get the maximum benefit out of the systems already installed.
At the end of the event, Knut Ostby, Resident Representative, UNDP Pakistan, said, "We realize that sustainable development is not possible without sustainable energy. This diagnostic study is the first step aimed at highlighting key challenges and recommendations, and a longer-term intervention is planned under MAGP's Special Emphasis Programmes (SEPs) focusing on an approximately 4,000-household-survey, based on which interventions will be piloted in selected areas."
He appreciated the Government of Khyber Pakhtunkhwa for their effective and timely feedback to this electrification study, and extending data points and key insights to the electrification challenges and way forward in the MAs.
Hits: 0