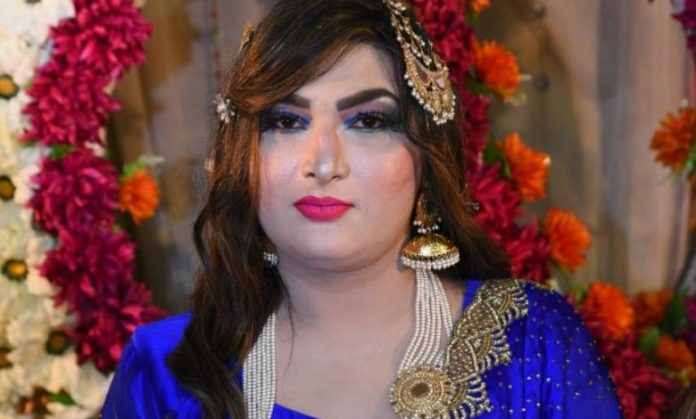 Khalida Niaz
PESHAWAR: Transgender persons in a Pakhtun society can never celebrate the marriages of their brothers and sisters and the only event in their life worth celebration is their special birthday.
These views were expressed by Sobia Khan, the first ever transgender anchorperson from KP, who celebrated her birthday on Monday with great enthusiasm. Sobia Khan is hosting different programs with TNN and other radio channels. She is a graduate and also aspires to study further. She says she is very happy that she is fulfilling her aspirations on the occasion of her birthday.
Sobia Khan says the purpose of celebrating birthday is to have a get together with the people of the community and fulfil aspirations as transgender persons are mostly treated with disdain and even did not get married.
How transgender persons celebrate birthday
Like men and women who make special dresses and matching shoes and other items, transgender persons also wear new dress, shoes and also make-up on this special occasion. Other transgender persons also join the party to share the joy of the birthday person. They sing songs and dance to express their jubilation.
Sobia Khan says transgender persons make different suits for hena, entry, dance and also for cake cutting. She says birthday invitation cards are also printed which are distributed at residences of transgender persons. She says participants of the function bring gifts in shape of suits or give cash as Salami.
Relatives ditch transgender persons
It is generally seen that relatives ditch transgender persons and don't invite them to any of their function. Sobia Khan says she had also invited her parents to her birthday, but they didn't come.
"It is a tragedy with our society that parents ditch their children if they are transgender. Participation of parents in the functions arranged by their transgender children is a wishful thinking," she said.
Sobia says her birthday functions continued for one week. She says her friends brought Mehandi (hena) for her and she made a yellow suit for the function like the bride in marriage functions. "When my guests were going back to their residences after having tea, I gifted them suits which I had bought for them," she said, adding that the birthday of other transgender persons also happens in similar fashion.
Special cake for special occasion
Sobia Khan says the birthday cake for transgender persons is very special as it carries name and photo of the birthday person.
However, she says, the main purpose of the event is to give a moment of happiness to transgender persons who otherwise have nothing to celebrate.
"Every transgender person aspires to throw a party and arrange a memorable event whenever she can afford it as expenses are also similar like that of marriages of boys and girls.
Sobia says she made eight dresses for her birthday. She says the hena dress cost Rs20,000, entry dress cost Rs35,000, dance dress cost Rs27,000 and cake dress Rs6,000.
'We are also human'
Sobia Khan says not only transgender persons, people from other walks of life also participate in the special birthday of transgender persons. She says she had also invited office colleagues and their participation doubled her jubilation.
"Transgender persons are also human, but it is unfortunate that they spend their whole life away from relatives. They are also treated with disdain by society," she said, adding that awareness must be created among the people about the rights of transgender persons.