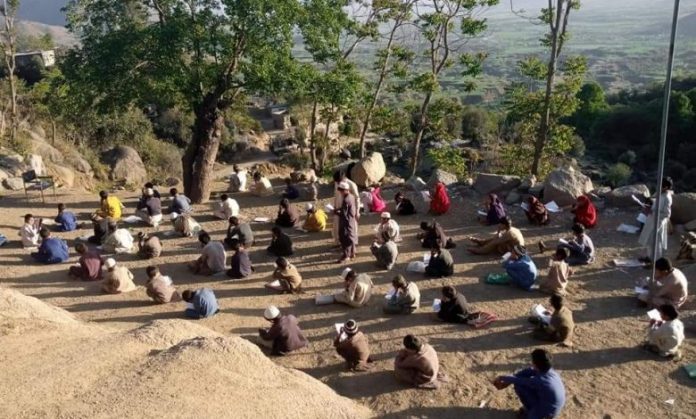 Zahid Jan
KHAR: Children from Samsai Daman Shah village in Bajaur tribal district cover a distance of four kilometres daily to reach the nearest primary school.
Several requests have been made to authorities concerned for establishment of a school in the area, but no response has been made. Samsai Daman Shah village has about 100 houses, but it lacks basic facilities of life. This is not the only village in Bajaur which lacks basic facilities.
Another such villages is Islamgat which is a mountainous area on border with Lower Dir. The area lacks any primary school for boys or girls. A temporary place has been set up by locals for a school which is operated under a project, but it often remains closed due to funds issue. Local people say about 150 students up to fifth grade are enrolled in the school and two students, who have passed eighth grade, teach them.
According to Article 25-A, the state is responsible for provide free and mandatory education to children aged between five and 16 years, but many children in Bajaur are deprived of this basic right due to lack of schools.
District Education Officer (DEO) Arbab Shireen Zada said there are 265 villages in Bajaur which lack the facility of girls or boys primary school. He said that under the policy of the Education Department, a village having population of over 800 is feasible for school.
Construction of new schools was banned in merged districts from 2007-2020. However, after merger of erstwhile Fata with KP, the PTI government revoked this ban and Chief Minister Mahmood Khan approved establishment of 100 new primary schools, including 12 in Bajaur. The Education Department has selected areas for these schools and sent the PC-1 for approval of government.
Shireen Zada said the selection of areas for new schools has been made in consultation with the elected representatives on respective areas. He said most schools have been specified for girls keeping in view the low literacy rate of women in Bajaur. About lack of schools in Samsai Daman Shah and Islamgat, he said the Education Department teams will visit these areas and then send recommendations to government.
According to Education Department, 89,000 children, including 55,000 girls and 34,000 boys, are out of school in Bajaur. Besides lack of schools, poverty is another main reason behind this situation. Cultural issues also impede progress in girls education.
Hits: 2