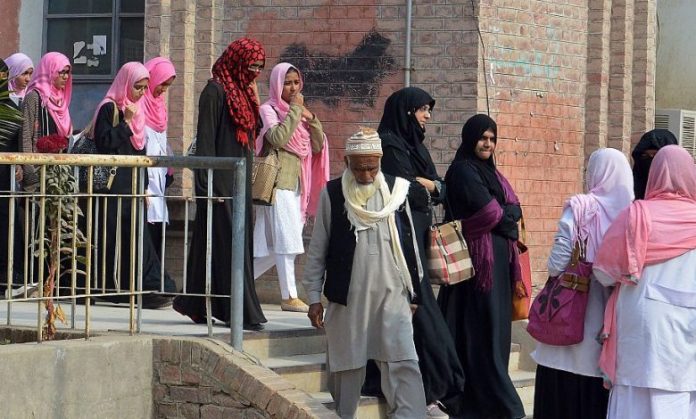 Salman Yousafzai
PESHAWAR: Students at Bacha Khan University Charsadda have divided views about the new dress code which forbids girls from wearing tight jeans and shirts and encourages them to wear Abaya and scarf.
Those who oppose the directives believe that the university administration should focus more on resolving problems of students instead of their dress. Iftikhar Ahmed, an MPhil student at the university, says the university administration should resolve the problems of high fees, hostel, food, and quality of education rather than checking what the students are wearing.
However, another student, Saman, supports the new dress code introduced by the university and says Abaya and scarf are part of our religious teachings which protects women from the eyes of others. She says Islam gives respect to women who observe Pardah, and the new dress code of the university will help the female students act upon Islamic teachings while getting modern education.
The university spokesman Hakeem Momand said while talking to TNN that the dress code recommendations have been presented in under the directives of the KP governor, who is chancellor of all public sector universities. He said the final decision about the dress code will be taken in the syndicate meeting.
Under the dress code, the female students are forbidden from make-up, wearing thin dresses, heals, expensive jewelry and bringing fancy purses.
Samiullah, a bio-technology student, supports the dress code, arguing that it will ensure uniformity and remove the inferiority complex from students who cannot afford to wear expensive dresses due to financial problems.
On the other hand, social activist Wafa Wazir believes that dress code may put students under mental pressure and their decision-making power may be affected. She says such kinds of restrictions may discourage the girls from displaying their talent in co-curricular activities like sports etc.
"I can't imagine how a girl will continue to take part in sports activities if she is to wear scarf and Abaya," she told TNN.
Earlier, a similar dress code was also introduced in the University of Mansehra.
The Higher Education Commission (HEC) spokesperson Ayesha Ikram says every university is autonomous while making decisions about the dress code for ensuring discipline.
Hits: 20