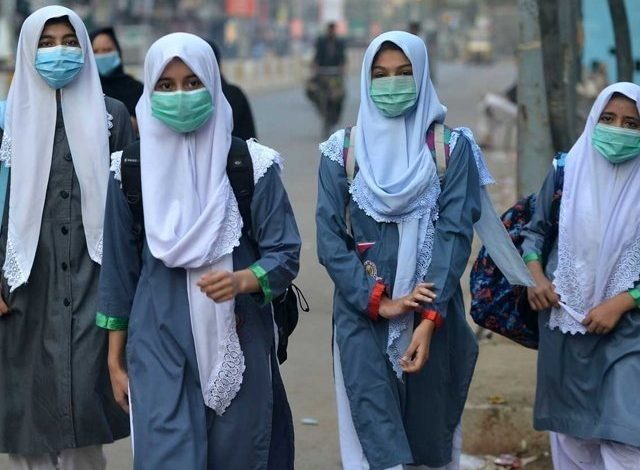 Hudaibia Iftikhar
NOWSHERA: After several months of school closures, Khyber Khan, a student from ICMS schooling system Nowshera, finally found himself getting excited for school again as he is having his board exams soon for which he cannot study properly at home.
"Online studies are not as effective as physical classes. We were not able to cover our syllabus through online learning," he said, adding that it is safe to reopen the schools if we strictly follow the standard operating procedures (SOP).
The government of Khyber Pakhtunkhwa has announced to reopen the educational institutes in some districts where the coronavirus positivity ratio remains below 5 percent according to National Command and Operational Centre (NCOC). The continuous closure of schools causes massive damage to the educational system and almost 1.6 billion students have been affected in more than 190 countries according to the World Bank Report. Furthermore, in KP more than 5 million children were affected.
Online learning is not effective for all yet and cannot replace face to face learning. The students of mathematics and other science subjects are facing difficulties because of online learning.
A ninth standard student of Daffodils schooling system, Zunaira Ahmad, from Nowshera showed great interest towards reopening of schools and said that she was facing problems in clearing her concepts in online classes.
"I have exams coming up and in mathematics subject more I solve sums, the more doubts crop up and I was not able to clear my doubts through online learning," she added.
Some students are in favor of reopening of schools while some still consider it not good to step out of their homes in this pandemic situation.
"Opening of schools is not a good decision by the government as it is like inviting trouble," said Falah Rabail, a student from Punjab Group of Colleges, Nowshera
Alishba, a student of Peace Group of Colleges, Nowshera did not agree to the opinion of Falah Rabail that we have already wasted a lot of time while sitting at home and now it is necessary to be serious towards our studies. She also said that if we strictly follow the SOP and make a habit of wearing masks regularly then we will definitely be safe from the pandemic. "Covid-19 still exist but it is under control in many places therefore proper studies should be started from now," said Alishba.
At this time, where health is the first priority and it's been more than a year we are fighting with Covid, but we also had huge loss of learning during corona break. It's very difficult for the students of intermediate level to be prepared and pass the entrance exams for further admissions in future.
"We not only have to score well in board exams but also learn the concepts that can benefit in entrance exams", said Lubna Khan from Nowshera.
"If schools remain closed and we again get passed without exams, then at entrance exam everyone will be at same level and advantage of division of score and selection percentage on Intermediate level will decrease," she added.
Health always comes first but the constant closure of educational institutions was not the solution to cope the disease, now as the schools/ colleges reopened therefore the coming days require a cautious balancing act with compelling collaboration and coordination between government, schools, and people, in general, to hold the infection to the reasonable level and prevent another closure of educational institutes.
Hits: 0