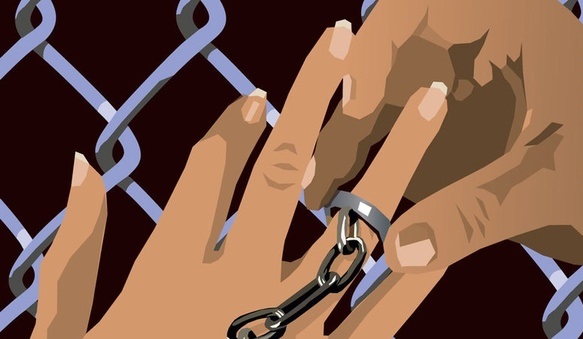 SWAT: Swat Police on Sunday arrested accused involved in giving two girls as Swara (compensation to settle dispute) in Mankial area of Bahrain, Swat and recovered the two girls.
Deputy Superintendent of Police (DSP) Bahrain Sher Hassan Khan said 20-year-old Shumaila was caught by her father when she was talking on phone with 22-year-old Habibun Nabi. Fearing punishment from her family, the girl took refuge into the house of a local elder in the area.
A Jirga was held on the issue on Saturday in which it was decided that Shumaila would be given in marriage to Habib, while Habib's 13-year-old sister Romana would be given in marriage to Saddam, 19-year-old brother of Shumaila, as a punishment for defaming Shumaila's family.
Upon receiving information, a police team raided the area and recovered the two girls being given in Swara. Police also arrested Nikha Khwan (marriage registrar), Jirga members, Shumaila's father Ghulam Hussain, Romana's father Habur Rehman and other accused and produced them in the court.
The ugly custom of Swara or Wani is still prevailing in some backward areas of Pakistan, particularly in Khyber Pakhtunkhwa, in which an innocent girl of a family is given in marriage as compensation to the rival family without her consent to settle a dispute.
On January 30, Swat Police foiled a bid of giving six-year-old girl as Swara to settle a dispute between two rival families.
On receiving information, police raided the remote Lakhar village of Khwazakhela tehsil and rescued a six-year-old girl who was being given as Swara. Police also arrested 14 persons involved in the practice.
Police said there was enmity between two families over a murder. A Jirga had arranged patch-up between the two families and a girl from the accused family was being given as Swara to the victim family. Police raided the area and arrested 14 accused involved in the practice.
On October 10, 2020, police in Upper Dir foiled a bid of punishing an eight-year-old girl for the sin of her brother.
Police arrested 12 members of the Jirga which had announced the verdict of giving the little girl as Swara. Sources said the Jirga gave the girl as Swara to settle an honour-related dispute.
Hits: 0