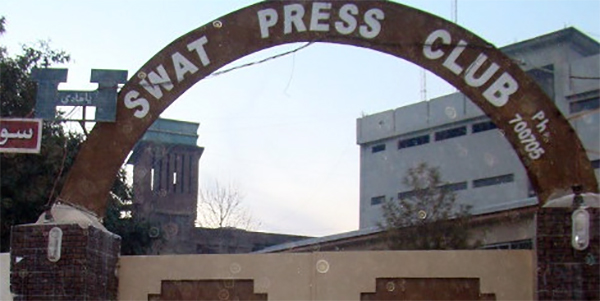 SWAT: The Khyber Pakhtunkhwa government has ordered closure of Swat Press Club building over feud between two groups of journalists over ownership of the building.
In this regard, the KP Information Department has issued a communique to the deputy commissioner of Swat in which it has been stated that it has been reported through print and electronic media that a dispute has been going on between two groups of journalists on the ownership of Swat Press Club.
"It is worth mentioning here that the building of Swat Press Club is a public property and is run by the public money in shape of grant-in-aid. The dispute is bringing bad name to the government and needs to be resolved at the earliest," the communique said.
It said the higher forums of the government have decided to seal the press club till the resolution of the conflict between the groups which is only possible through an election for the cabinet of the press club.
"Therefore, you are requested to take necessary action by sealing the building before Monday, 29th March, 2021 and taking control of it to avoid any embarrassing situation," the deputy commissioner was directed.
Many journalists in Swat had also held a protest demonstration last month against what they alleged the mafia which was occupying the press club. A scuffle also happened between the two groups in presence of police.
On Saturday, the decision of closure of press club did not go well with some journalists who staged a protest against it.
The protesting journalists chanted slogans and asked the KP government to take stern action against Deputy Secretary Arshad Khan and remove him from his post for his 'illegal action'.
Swat Press Club Chairman Mahboob Ali Yousafzai termed it a black day for the journalist community as a bureaucrat has issued directives to the district administration to seal the press club. He said the journalists in the entire Malakand Division will stage a demonstration today (Sunday) against the 'illegal' notice of the deputy secretary.
The journalist community in Swat also called upon the journalist bodies in KP and rest of the country to take notice of the matter.
Hits: 0