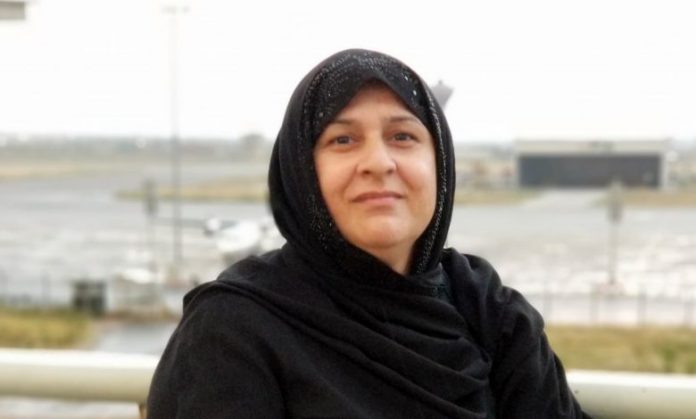 Shehzad Naveed
SWAT: Women's rights activist from Swat Tabassum Adnan has been nominated for an international peace award. Tabassum Adnan runs an organisation 'Khwendo Jirga' which works for women's rights.
The United States Institute of Peace, an American institution tasked with promoting conflict resolution and prevention worldwide, has nominated Tabassum Adnan, who lives in Saidu Sharif, Swat, for Women Building Peace Award finalists, in recognition of her efforts for women's rights. This award is given every year to women who work for peace in their country.
The US Institute of Peace had received nominations from 30 countries for the award.
Tabassum Adnan said nomination for international peace award is a matter of pride for her and the country. She said this nomination is recognition of her efforts for peace.
Tabassum Adnan said she established Khwendo Jirga to launch her efforts for women's rights. She said it was not an easy task and she had to learn a lot to pursue her mission. She said the campaign was difficult particularly in Swat where the militants held sway once and still they have presence in some pockets.
"The establishment of a women's Jirga in a conservative set up was a huge challenge. Initially, people were not welcoming, and some of them even made fun of us. We even faced taunts and Fatwas (edicts). Once I faced a gun attack, and I also heard some people saying that these women must be beaten with batons. But we did not lose courage and continued to raise voice for women's rights. When we solved problems of women, more women started contacting us," she said.
Tabassum Adnan said it is a huge success for her organisation that women express trust in it and believe that their problems can be resolved through this platform.
"We resolve issues of women through Jirga within few days, that is why more and more women are approaching us," she said, adding that the Jirga mostly work on the issues of Swara, human smuggling, domestic violence.
In a recent case, she said, the women's Jirga managed to persuade a man permanently living in Saudi Arabia to pay Rs1 million to his wife in Pakistan for her expenses. She said women can get their rights if they have courage to do so.
Hits: 11