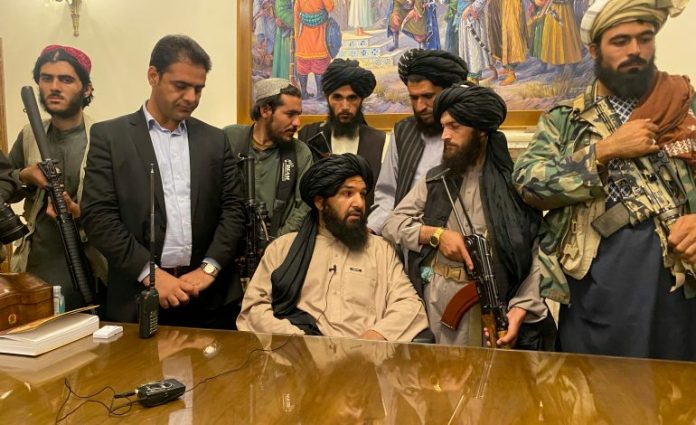 PESHAWAR: In their first press conference since capturing Kabul, the Afghan Taliban assured to protect women, allow them to get education and do jobs in accordance with principles of Islam, and not to harm those who sided with the Afghan government in a general amnesty for everyone.
Taliban spokesman Zabihullah Mujahid said at a news conference that the war in Afghanistan has come to an end and they won't seek revenge. He said the Taliban would soon be establishing a government while connecting with all sides.
Zabihullah Mujahid said the Taliban have enmity with no one, and those who have fled Afghanistan must also return. He said the Taliban have informed the residents of Kabul to approach them in case someone is harassing them or receiving extortion in the name of Taliban.
The spokesman said the ideology and beliefs of the Taliban are the same which were there 20 years ago, but from their experience, they have learned a lot, and now their approach is different.
Zabihullah Mujahid said the Taliban would welcome criticism from media, but journalists should not work against national values.
He said the Taliban have good ties with Pakistan, China and Russia, but they are not part of any bloc. He assured that the Afghan soil will never be used against any other country in future. He said the Taliban would make sure Afghanistan is not a battle of conflict anymore.
The Taliban spokesman shared that the fighters planned to stop at the gates of Kabul so that the transition process is completed smoothly, but the previous government fled the capital and left a power vacuum which forced the Taliban to take over the matters to ensure order and security.
Meanwhile, Taliban´s spokesman at political office in Doha Suhail Shaheen said the burqa for women is not the only cover that can be observed, as there is different types of hijab not limited to burqa.
He said women can get education under the new set up. He said thousands of schools in areas captured by the Taliban were still operational.
The Taliban statement came at a time when women in hijabs staged a demonstration in Kabul, holding signs demanding the Taliban not "eliminate women" from public life.