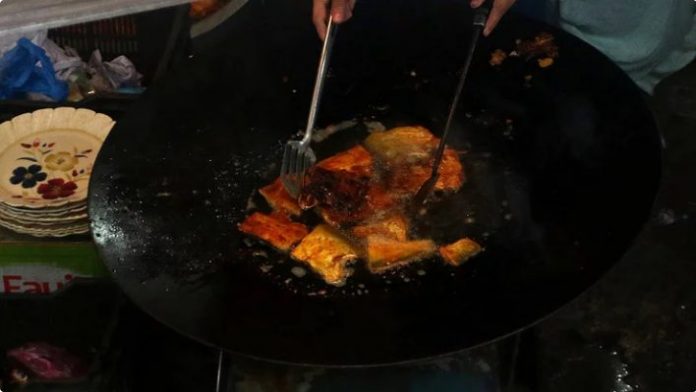 Hudaibia Iftikhar
NOWSHERA: "I have visited various places in KP and being the fish lover I tried the fish of many places, but no other fish spot can beat the scrumptious fish in Nowshera city. Everyone must try the fish of the city whenever one gets chance to visit Nowshera," says Muhammad Yaseen, the resident of Nowshera city.
Nowshera, pronounced in Pashto as Nowkhar, is the district of KP located in the valley of Peshawar, the city is famous for sweet and juicy oranges and other citrus food, the Rambil kabab of Taru Jabba, GT Road Nowshera, is also one of the famous foods of the city. But the most popular food of the Nowshera is fish.
Fish are one of the most important species and they have been serving human beings since pre-historic times because fish are the most resourceful creatures which could be utilized to develop the nation's economy.
Pakistan's fish eaters are described as extremely prosperous in marine life with the vast variety of species having great marketable value. According to a report, at least 86 fish species are found in Pakistan. Facts and figures show that most of the fish caught in Pakistan is through marine sources, which is stated to be 70 percent of the total fish export.
A study on the fish of River Kabul at district Nowshera found that a total of 24 fish species were identified belonging to eight families (Cyprinidae, Nemacheilidae, Sisoridae, Siluridae, Bagridae, Channudae, Mastacembelidae, and Schilbeidae).
Nowshera fish is famous not only among the residents of the city, but most of individuals from different places outside Nowshera regularly visit here to taste it's fish.
A resident of Mardan Abdullah says he visits Nowshera with family when they have mood to eat fish.
"We are visiting Nowshera for the last five years with the only purpose to eat delicious fish," he told TNN.
There are numerous types of fish with different nutritious profiles, in general they are divided into two categories, lean and fatty. Both are viewed as nutritious and a great source of high quality protein.
Currently 40 percent of people have low degrees of Vitamin-D which can be the cause of coronary illness, diabetes, cancer, dementia and some auto-immune diseases. Eating fish is the best way to get Vitamin-D.
In spite of the fact that eating fish is useful for wellbeing, a few people are weight conscious and like eating fish cooked with oil-free procedure. Various kinds of fish are available at Nowshera which are cooked with various different styles, some are deep fried, some baked with foil, and some prefer drilled fish.
Laila Ashfaq, an inhabitant of Nowshera, showed incredible interest towards eating fish, points out that she is a thyroid patient and mostly prefers to eat fish as it is the part of her diet prescribed by doctor, but she likes the fish baked with foil the most as it helps her maintaining weight also.
"I found the more varieties of fish available in Nowshera city and it became simpler here to eat the fish of your choice," she further said.
Fish has consistently been perceived as a cheap source of animal protein.
The hujra system in many fish restaurants in Nowshera city received a warm appreciation from the tourists visiting here for the fish. The visitors used to have fun while eating fish sitting in the beautiful environment of Pashtun culture.
A visitor from Karachi told TNN that she had tasted fish from many places in Karachi, but the fish she ate here is really different in taste from the other fish she eats regularly. The farming of fish also contributes to local economy.
Salman, owner of fish market at Nowshera, says fish farming is a beneficial business and source of income for many.
"I am content that many people from diverse areas come here and consume fish eagerly. Individuals not only eat fish here but take it home also," he said.