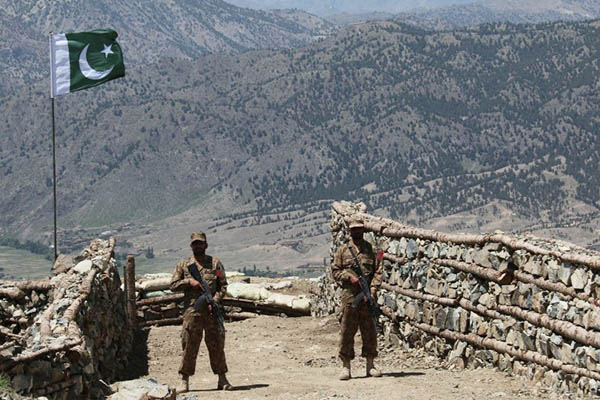 PESHAWAR: A terrorist was killed in an intelligence-based operation (IBO) by the security forces in the North Waziristan tribal district on Sunday.
According to the Inter Services Public Relations (ISPR), the security forces launched an IBO in the Boya area of North Waziristan. During the exchange of fire, one terrorist was shot dead. The ISPR said arms and ammunition were also recovered during the operation.
The operation was continuing over reports of the presence of more terrorists hiding in the area.
Security situation has worsened in Waziristan region recently and attacks on security forces have increased, as a result of which the security forces have also stepped up intelligence-based operations.
On August 12, one terrorist was killed and another was arrested during an operation by the security forces in Sra Rogha area of South Waziristan tribal district.
The ISPR said that during intense exchange of fire, one security personnel embraced martyrdom. The ISPR said the arrested terrorist revealed that they had planned to conduct a fire raid on a military post. The martyred soldier was identified as Naik Ziauddin, hailing from Mardan district of Khyber Pakhtunkhwa.
On August 07, a soldier of the Pakistan Army was martyred when terrorists attacked a military check post in Ghariom area of North Waziristan.
According to ISPR, during the exchange of fire, Sepoy Shahid, 29, resident of Bahawalnagar, embraced Shahadat. The security forces responded in a befitting manner and carried out an area clearance to eliminate the terrorists.
On August 03, a soldier was martyred when terrorists opened fire on a Pakistan Army check post in the same area.
According to ISPR, the Pakistani troops responded in a befitting manner. During exchange of fire, Naik Ghulam Mustafa, 37, resident of Muzaffarabad, embraced martyrdom.
On July 05, three security personnel were martyred and another was injured in an attack on their check post in Mir Ali sub-division of North Waziristan.
Official sources said the attack was carried out by militants in Hasankhel area of Speen Wam town. The martyred security personnel were identified as Naik Gul Bahadur, Sepoys Khurram and Adnan, while the injured soldier was identified as Fawad.