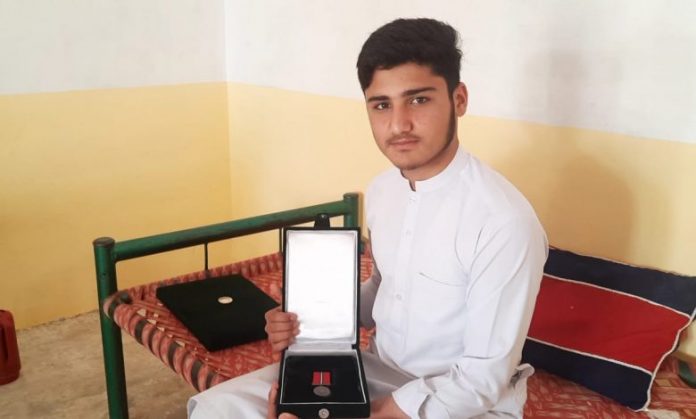 Muzamil Khan Dawar
PESHAWAR: Martyred journalist Hayatullah Khan Dawar was born in Harmuz village in Mir Ali tehsil of North Waziristan tribal district on December 13, 1976.
Hayatullah Dawar passed matriculation in his native village and then got admission in CT College Hyderabad where he completed F.Sc after which he returned to North Waziristan and completed B.Sc from Govt College Miranshah and then got Masters of Economics degree from Bannu College of Economics.
Hayatullah Dawar had two sons and four daughters. Unidentified miscreants had kidnapped Hayatullah Dawar from outside Govt Elementary and Secondary Education College on December 05, 2005 where he had come for coverage of students protest. No one knew about the reasons of the kidnap and after six months of kidnap, on June 16, 2006, his body was found in Khushali village of Mir Ali.
Hayatullah Dawar was the first journalist from tribal districts who made a picture of US drone and told the people that the missile strikes in the area were actually carried out through US drones. Hayatullah's wife was also killed in a blast in the home.
The government of Pakistan had set up three inquiry commissions to probe the death of Hayatullah Dawar after countrywide protests by journalists over his murder.
Faisal Hayat Khan, younger son of Hayatullah Dawar, said while talking to TNN that they were very young when their parents died and they faced a lot of difficulties. He said their family, particularly their uncle Ihsan Dawar, helped them a lot. He said Tamgha-e-Shujaat for his late father is a matter of pride for the whole family and a slap on the face of murderers. However, he said, the murderers could not be traced even 16 years after the murder of his father. He appealed to Pakistani institutions to provide justice to his family.
Ihsan Dawar, younger brother of Hayatullah Dawar, told TNN that he would repeatedly make demand for justice from Pakistani institutions. He thanked the President of Pakistan for honouring his martyred brother with bravery award.
On March 23, 2021, Kamran Hayat Dawar, elder brother of Hayatullah Dawar, received Tamgha-e-Shujaat from President of Pakistan Dr Arif Alvi on which the journalist community expressed gratitude and appreciation.
Hits: 0