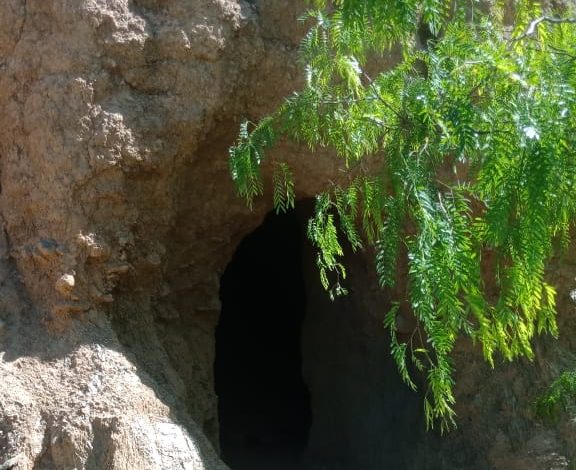 Zahid Mallagori
PESHAWAR: Even in this modern era, there are few people in Khyber tribal district who live in caves like the people of ancient times due to poverty.
These cave-like houses are called 'gara' locally and its making costs about Rs10,000 to Rs15,000 which is relatively easier for poor families. The setting up of such a house needs a solid mountain which has minimum chances of collapse. In some cases, well off people also build 'gara' due to its weather friendliness.
Darkness prevails inside gara because there is no system of ventilation, like windows etc. Due to lack of exposure to atmosphere, people living in gara are likely to contract different skin, respiratory and other diseases. Such kind of residences are seen in Godar, Lashora, Warmando Mela, Jaba, Rekalay, Ali Masjid, Lala Cheena and Sperai areas of Jamrud tehsil where about 2,400 people are living.
Shah Zaman Afridi, a local resident and social activist, said while talking to TNN that such cave residence has an old history. In ancient times, people lived in caves. With passage of time, development happened in every aspect of life and people started living in well-constructed houses. He said 50 percent people in Jamrud live in caves due to poverty, 30 do so due to climate impact, while 20 percent are those who were displaced from Tirah due to militancy and they had no other option but to live in gara.
Shah Zaman Afridi said the affectees of Tirah live in caves because they don't prefer to live in tents provided by the government. He said in case of rain, the residents of caves scale mountain for safety as they fear entry of rainwater into caves. He said the population of Warmando Mela is about 2,500, but there are no facilities. He said the government must provide facilities of schools and health centres in the area to address their sense of deprivation.
The local people said the government has not taken any considerable step for changing the sorry state of affairs. They said the government can at least provide solar lights in the area.
Bakhmin Afridi, who lives in a cave due to poverty, said his children take refuge in their uncle's house in case of rain because they fear their cave could be washed away in flood. He said rainwater entered is house twice and damaged all belongings, but the government did not extend any help to him. He demanded the government to build a protective wall near the cave houses to save them from rain damages.
Hits: 0