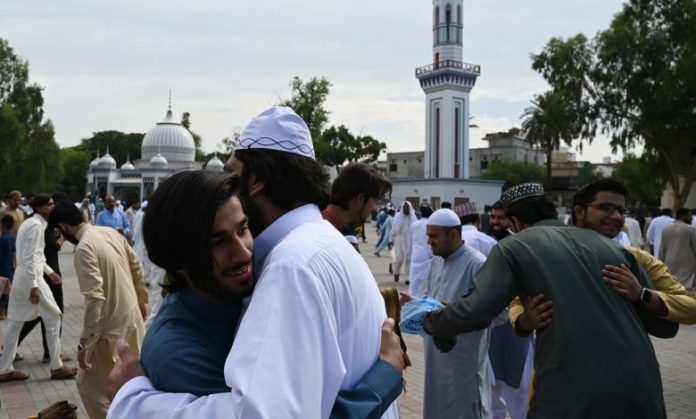 Nisha Arif
PESHAWAR: On the Eid day, we just can't wait to go to the house of our grandfather and all the cousins also kept on waiting for arrival of uncle from the city on Eid holidays.
After offering Eid prayers at Eidgahs, people used to spend the Eid by visiting relatives and friends. It was a fascinating practice to mix up with relatives and have gossips and enquire about each other's wellbeing.
The Eid celebrations in villages were different from the celebrations in the city. A three-day fare was the main feature of rural Eid celebrations in which children used to go and enjoy themselves. The first two days of the Eid fare used to be specified for men, while the last day was specified for women and entry of men used to be banned on that day to enable the women to enjoy Eid along with their children.
On the Eid day, children used to go to the house of relatives and get new currency notes for Eidi along with a colourful boiled egg. Rice was the most common food on Eid which was mostly served with butter and also sent to the houses of neighbours. It used to be a happiest occasion for children to visit uncles, aunts and grandparents and stay there for considerable time on first or second day of Eid.
The elderly relatives left the mortal world and the new generation is entangled in so many engagements that they hardly socialize with anyone nowadays. Urbanization has also grown at a rapid pace, which is also one of the reasons behind low or no socialization.
Then the trend changed, and people started going to cities for Eid celebrations. People used to visit parks, hotels and tourist spots on Eid days to enjoy the occasion.
And then the coronavirus pandemic struck the entire world last year and Pakistan also suffered from its impacts in shape of repeated lockdowns. Corona restrictions have again change the trend of Eid celebration and now people prefer staying at home and village on Eid days. Precaution is mandatory for avoiding the disease, but it has dampened the Eid celebrations and the traditional hustle and bustle is seen no more.
Eidul Fitr celebrations were also affected badly due to corona restrictions, and now the increasing corona cases have created fears of emergence of a fourth wave. The government has warned that it will be compelled to impose more restrictions if corona cases kept on increasing.
Hits: 1