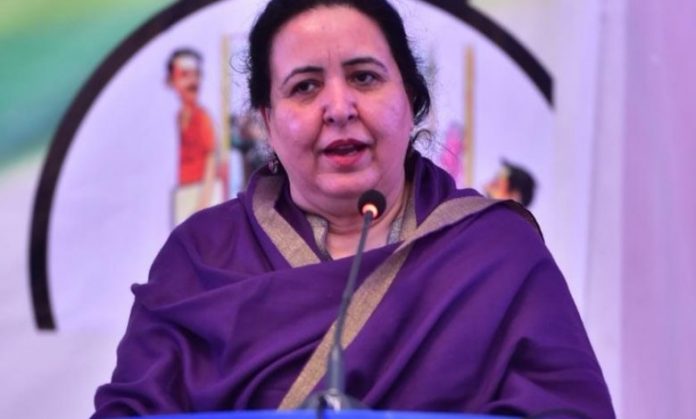 Khalida Niaz
PESHAWAR: It was second day of legal practice by Rakhshanda Naz when she decided to join the fellow lawyers in protest against the rape of a girl and someone told her parents that their daughters is protesting on roads instead of doing legal practice.
"I realised the challenges associated with my job on the very second day. My parents were a bit concerned, but I knew my limits and goals and I kept on working for women's rights and now I have been given the very important responsibility of provincial ombudsperson for harassment against women," said Rakhshanda Naz in an interview with TNN.
Rakhshanda says she protested first time in her house at the age of 15 for taking admission in boarding school as she wanted to achieve her goals quickly and defeat the negative mentality of some elements in the area where she lived. Her family members finally sent her to boarding school in first year (intermediate).
Rakhshanda Naz was born in Balochistan and she got early education there. She graduated from Punjab and got a law degree in Khyber Pakhtunkhwa. She then went to England where she received LLM degree. She was appointed KP ombudsperson for harassment against women in 2019.
Rakhshanda says she initiated her legal practice from Peshawar and also started handling human rights cases. She says she has worked in all parts of Pakistan.
Rakhshanda is the first woman from her family who has joined the field of law. She was an active student worker. She said she arranged a peace walk with the help of other students against the attack on Iraq during the first year in the law college. She says co-curricular activities for girls were negligible in the university at that time, and she also worked for improvement in this regard and also participated in such activities. She says she always stood against gender discrimination and fought for equal rights for women.
The ombudsperson says she also contributed to the Domestic Violence Act. She says she also lobbied as an activist and lawyer for ensuring 33 percent representation of women in the local government system.
Rakhshanda personally visited Swat and North Waziristan to collect testimony of women after military operations. She says she also published a report on effect of extremism on women after extensive interviews of women during the wave of terrorism in 2008.
Despite her numerous contributions, whenever Rakhshanda is nominated for an award from KP, some people raise questions that she doesn't belong to KP. However, she says, the fact is that most of her contributions have been made in KP.
Rakhshanda got Presidential Award in 2017; she was nominated from KP and merged districts for working for human rights, but an objection came that she didn't have a KP domicile. She says a Fata member acknowledged her work for the area and it took 23 years for the federal government to recognise her work. She says her work was also acknowledged by the KP government the next year, and she also received Quaid-e-Azam Award.
Rakhshanda has established several organisations where women and children receive legal aid and also accommodation. She also works for women from minorities and Afghan refugees. She says she keeps low profile as she receives threats sometimes. However, she says, she is lucky to have support of friends.
"It's very important for a woman to know her talent. The condition of women will never change until they learn to support and strengthen each other," she said.
Hits: 2