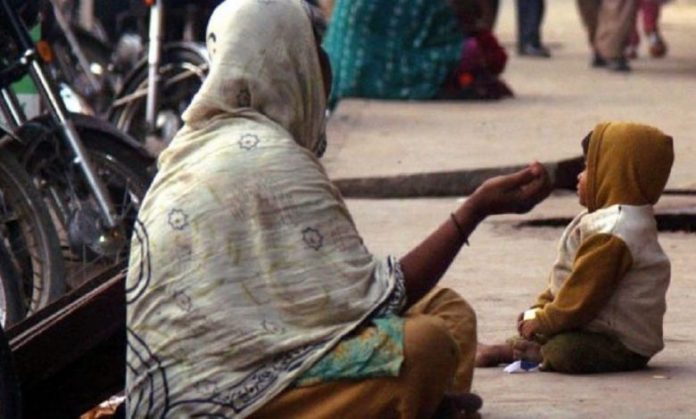 Gul Hammad Farooqi
PESHAWAR: Alarming increase has been witnessed in the number of female beggars in Peshawar and rest of Khyber Pakhtunkhwa during the holy month of Ramazan.
Most of the women beggars are not Pashto-speaking, but they have memorised some Pashto sentences to seek sympathy of people. Most of them also have little children with them and they belong to gypsy families.
A little research by TNN revealed that these female beggars come to Peshawar in the morning and then in the afternoon they wear a burqa or chaddar and sit outside mosques to seek alms. Some of them show or pretend that they or their children are ill to attract people's attention. They often carry some medical prescription with them or fake bandages to show that they are in need of buying medicines.
Research has shown that these female beggars are brought by a contractor from Southern Punjab and Sindh to KP and they are disembarked from a vehicle at different sites. Beggars receive a small amount from their 'income' in the evening and the rest of money is taken by the contractor.
Eminent lawyer and Frontier Law Association President Malik Ajmal Advocate said he has taken the matter to the court which has termed it a matter to be heard by green bench, which means that the chief justice would head the hearing of the case. He said he has made the federal and provincial governments and deputy commissioner of Peshawar parties to the petition.
Deputy Commissioner Ali Asghar has recorded his statement in the court that these beggars are in fact brought by a contractor to Peshawar. Malik Ajmal said some of young beggars are also indulging in the use of narcotics, but according to the court directions, they need to be dealt as patients, not criminals.
A Punjabi female beggar, who was sitting outside a mosque on Kohat Road, told TNN on condition of anonymity that she lives in slums in Bahawalnagar (Punjab), and her contractor brings her to Peshawar during Ramazan as most people in the city tend to give money to needy people during the holy month. She divulged that she cannot do begging independently as the contractor is very cruel who would torture her in that case. She doesn't even know the name of her contractor.
Some beggars have also been seen indulging in negative activities like using drugs or seducing the youth for minting money.
Malik Ajmal Advocate said begging is a nuisance for our society. He said it is the responsibility of the state to curb this menace. Some citizens have also reported theft incidents at their homes in which beggars were involved.
A disabled beggar on GT Road in Peshawar belongs to Kashmore area of Sindh. He doesn't know even the names of his parents, and the only person he knows is his contractor. He even doesn't know whether he has disability in his foot by birth or he was made so by the begging gang. Most of the female beggars interviewed by TNN were seen unaware about the importance of education or religion. Although, most of beggars seek alms from people entering or coming out of mosques, but they are not seen performing any religious obligation like prayers, fasting etc themselves.
Qissa Khwani Bazaar Trade Union President Abdur Razzaq said many beggars are trained so hard that they even indulge into argument with people if they refuse to give money to them. He said Pakhtuns respect women so much and they also tend to help the needy women, so the contractors prefer to bring women beggars to Pakhtun areas.
Police and officers of the administration, when contacted, said law is mostly silent on the issue of begging.
A religious scholar told TNN that Zakat and Khairat can be given to anyone, including beggars. However, he said, according to Islamic teachings, it is better to give financial help to deserving relatives and neighbours.
An official of the district administration said all the beggars would be caught and sent back collectively to Punjab if orders are received from 'higher authorities'.
Hits: 0