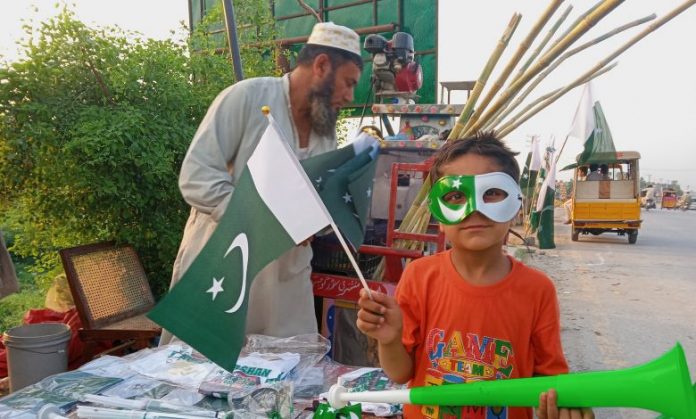 Sidra Ayan
MARDAN: Like other parts of the country, Independence Day was celebrated with traditional zeal in Mardan on Saturday. Stalls selling different items related to Independence Day celebrations were set at all important roads and bazaars in which people from all age groups took keen interest.
Shopkeepers had decorated their shops with national flags, and moving vehicles of all kinds were also waving the national flag. Children were dressed in green and white shalwar qameez with badges of national flags on their chests. Some wore green and white facemasks, glasses, hats, while others celebrated the occasion by whistling, clapping and shouting. National songs were played at major parks and public places and also in moving vehicles. Functions in connection with Independence Day celebrations were also arranged at educational institutions.
Children say they celebrate Independence Day like Eid. There was a time when children felt happy by buying toy guns and vehicles, but now they take interest in buying noisy whistles. This is the favourite toy of children on Independence Day, and parents had to buy it despite knowing that it creates a lot of annoyance in shape of noise pollution.
Women say they can't ignore the wish of their children for buying whistles as stalls are everywhere and children are very sharp in locating their favourite items. Many women were also dressed in green and white dress to celebrate the occasion.
Those who had installed stalls for selling items and toys related to Independence Day celebrations earned well during the last two weeks, as there was hardly anyone who did not buy any item related to the occasion. The stall owners said they feel happy to be part of the celebrations and people taking keen interest in their stalls.
Little children, who are yet to know about the meaning and importance of independence, also celebrate the occasion with great enthusiasm as they follow the footsteps of the elder ones. This whole thing created a very fascinating environment as on Independence Day, we really see how much love people have for their motherland and they are prepared to offer any service and sacrifice for the country. Children are learning patriotism from the elder ones and this passion is ever increasing.
Hits: 2