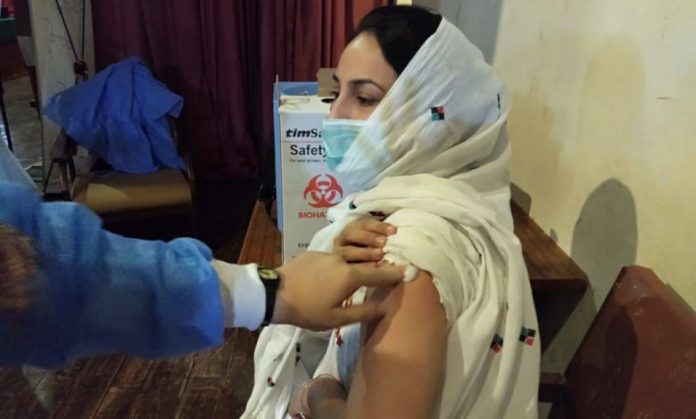 Rani Andleeb
PESHAWAR: At a time when the government is not providing even the cheapest medicines free of cost to the needy people, it is forcibly administering precious coronavirus vaccine to everyone. These two facts just don't add up, and there seems to be something fishy.
These views were expressed by Nasreen, 50, from Peshawar, who has some suspicions about the vaccination. "It is Pakistan, anything can happen here, therefore, I have got a fake coronavirus vaccination certificate by bribing someone," Nasreen said.
On the other hand, Dr Zubair Bhatti, who is in-charge of coronavirus vaccination at the Lady Reading Hospital (LRH) Peshawar, said the government is providing free of cost vaccination which has no side effect except for some temporary headache or mild fever in some cases.
Samina, another lady from Peshawar, said fake corona certificate can be obtained by paying Rs3,000. She was helped by her friend Maryam for this purpose. Maryam herself, along with her husband and his three sisters, also obtained fake corona vaccination certificate by paying Rs3,000 bribe to 'someone'.
Maryam did that because she believes into rumours that the vaccine renders women infertile, affects memory, and causes reproductive health problems both to men and women. The most dangerous rumour the people tend to believe is that the people who undergo vaccination may die within two years.
Maryam said even a headache pill cannot be available free of cost in Pakistan, then how a vaccine worth thousands of rupees is provided forcibly to people. She suspects some 'big game' behind this situation.
Maryam said it is possible that all these assumptions are wrong, but still he adopted the 'safe path' and got fake certificate.
However, Dr Zubair said all the rumours about vaccination are baseless. He said some rumours are too ridiculous and he is unable to understand why people tend to believe in such tales which are nothing but non-sense.
The government said it is taking strict action against officials involved in fake vaccination and issuance of fake certificates. It said officials involved in such practice would face imprisonment up to two years and also sacking from job.
Hits: 1