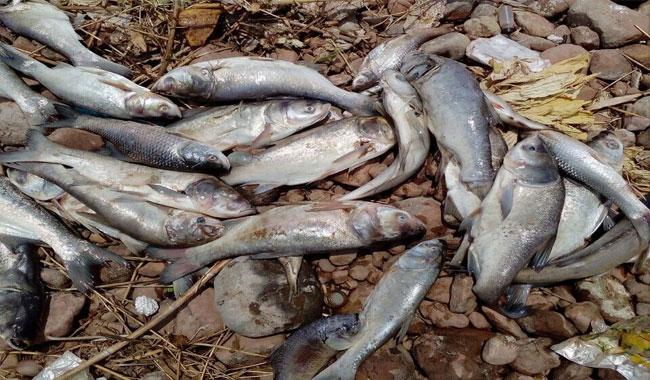 SWABI: Thousands of fish died in Bada Dam of Swabi, which is being constructed at a cost of billions of rupees, as it dried up suddenly.
The dam was inaugurated by former chief minister Khyber Pakhtunkhwa Pervaiz Khattak and Speaker National Assembly Asad Qaiser on January 27, 2018 in Gadoon area of Swabi. It was originally built for irrigating 3,000 acres of agricultural land. So far, Rs4 billion have been spent on the project, but only a pond like structure is visible.
The local people said thousands of fish, insects and other creatures died as the dam dried up suddenly. They said the foul smell of dead fish has created a nuisance in the entire area.
Tehreek Baidar Gadoon patron-in-chief Ashraf Khan Jadoon, Ali Jillani of Pakistan Reforms Party, JUI-F local leader Haji Ghafoor Khan, QWP district chairman Masood Jabbar Khan, district spokesman Sohail Farooq and other local leaders and elders have demanded probe into alleged use of substandard material and sudden disappearance of water from Bada dam. They said transparent probe must be held into alleged irregularities and responsible persons must be brought to justice. They said in case of no attention by the government, the local people would be compelled to oppose launching of such projects in the area in future.
The government is of the view the dam structure would be completed by the year end.
The ruling Pakistan Tehreek-e-Insaf (PTI) local lawmaker Rangaiz Khan says Bada dam is one of the three dams in the area. Kundal Dam has already been completed, Utla dam is under construction which is expected to be completed by the end of next year.
The ruling party says the completion of these dams would bring a green revolution in the region in shape of increased agricultural yields. It said the government is taking keen interest in development of Swabi.
Bada Dam will also be helpful in provision of drinking water to the area people who had been facing water shortage, especially during summer. It is also expected to mitigate the impact of floods as it would absorb much of the pressure of extra water in case of rains.
Hits: 0