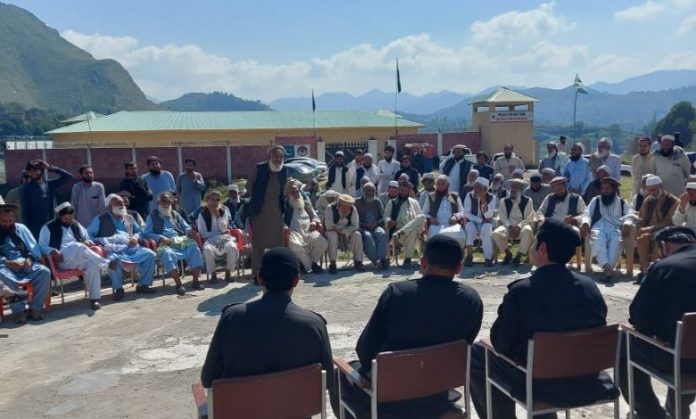 BARA: The elders of Tirah Valley in Khyber tribal district have expressed grave concern over increasing use of ice drug (crystal meth) by the youth, and called upon the police to take strict action to curb this menace.
TNN correspondent reported that on the directions of District Police Officer (DPO) Wasim Riaz, a Khuli Kutcheri (open court) was held in Tirah on Saturday to resolve problems of the local people, particularly the law and order issues.
The tribal elders said the menace of crystal meth has destroyed the present and future of our youth. They said administration must take immediate action against drug pushers and award them strict punishment under the law. They also reminded that the area people must not be teased unnecessarily in the name of law and order concerns.
A large number of local people, traders, social activists and others were present on the occasion. People also drew attention towards the problems of undue cutting of forest wood, compensation to people affected from militancy and military operations and ban on urea fertiliser.
Station House Officer (SHO) Tirah Maidan Shah Khalid said the police are deployed for serving the masses which they would do passionately. However, he said no compromise would be made on law and order, and all necessary steps will be taken. He said the problems pinpointed by the local people will be discussed with relevant quarters and efforts will be made to find a quick solution. He said no efforts would be spared to get rid of the menace of narcotics, particularly the ice drug. He appealed to the people to fully cooperate with the police to ensure quick resolution of problems.
Ice, as it is commonly known, is crystal meth of methamphetamines in the form of crystals. It is stimulant drug that comes as a white, bitter powder or pill also called as crystal meth as it looks like glass.
It is most commonly smoked in a glass ice pipe or injected. The usage of ice is increasing by the day in Khyber Pakhtunkhwa. Estimates suggest that over 10,000 people have been using the drug, including students in KP.
Hits: 1