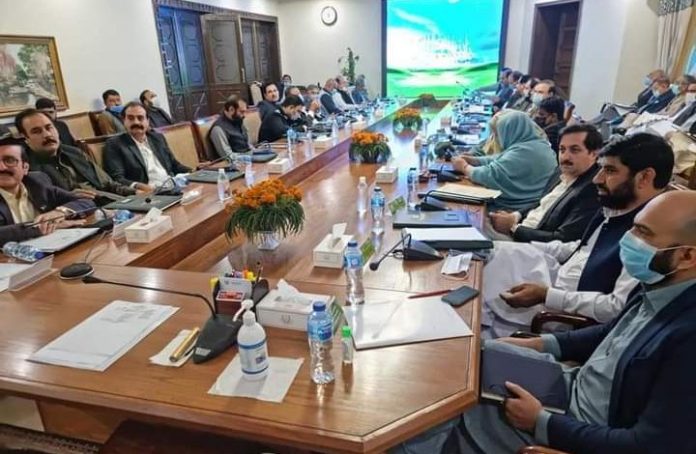 PESHAWAR: Khyber Pakhtunkhwa Chief Minister Mahmood Khan has announced to give a status of sub-division to the remote Tirah area in Khyber tribal district before the local bodies elections.
The chief minister also directed the concerned authorities to complete homework for establishment of a cricket stadium and grid station in Tirah. These announcements were made in a meeting of lawmakers from merged tribal districts with the chief minister in Peshawar on Saturday. Secretaries of different departments of merged tribal districts also attended the meeting.
During the meeting, the lawmakers from tribal districts highlighted problems of their constituencies.
Chairman of District Development Advisory Committee of Khyber tribal district Muhammad Shafiq Afridi said he brought the problems of Khyber district, particularly Tirah, into the notice of the chief minister. Mahmood Khan said the notification of giving status of a sub-division to Tirah will be issued in April before the local bodies elections which would help bring swift development in the area and problems of the area people would be resolved in a befitting manner. He directed Tribal Electric Supply Company (Tesco) to make preparations for establishment of a power grid station in Tirah. The Water and Power Development Authority (Wapda) officials were directed to bring proposals in this regard in the next meeting.
The sources said the chief minister also directed the concerned officials to speed up the process of land acquisition and remove hurdles in this regard for development schemes in Bara.
During the meeting, Shafiq Afridi repeated the demand of upgradation of Dogra Hospital Bara over which the chief minister ordered feasibility of the project. Mahmood Khan also ordered feasibility study of Government Degree College Bara and Cadet College. He also directed the authorities concerned to speed up the process of integration of former Levies and Khassadar personnel into KP Police and regularization of project employees in merged districts.
Mahmood Khan said the government would monitor the performance of government officials in merged districts and officials failing to perform in two years would be transferred. He said there would be no compromise on good governance and all necessary steps would be taken for this purpose.
Hits: 0