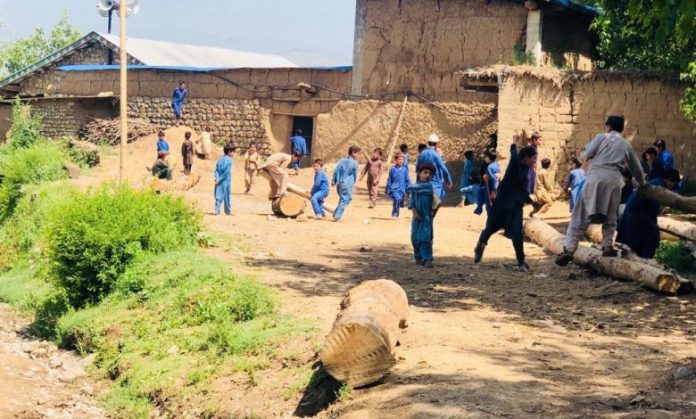 Kaif Afridi
TIRAH: The picturesque Tirah valley in Khyber tribal district, which is situated at a distance of about 120 kilometres from Peshawar, is deprived of basic facilities of life.
After recovering from the wave of 10-year militancy, Tirah hasn't got the attention which it deserves being a beautiful area with a distinct culture and hospitality which attracts a large number of tourists.
Like other problems the facilities of education are also not up to mark. For a population of over one lakh, there are only 15 primary schools, including one school for girls. There are also seven private educational institutions in the area.
The students of matriculation from Tirah had to come to Peshawar or schools of tehsil Bara for their exams every year due to which they were facing difficulties. With the efforts of Private Schools Association, the Board of Intermediate and Secondary Education (BISE) Peshawar had approved an examination hall for matriculation students in Tirah last year. Students were promoted without exams last year, but this year, exams are scheduled after June 15 as per the announcement of Federal Minister for Education Shafqat Mahmood.
There are about 300 matriculation students in Tirah this year and they are over the moon for having the facility of exams in their own area. Times are changing in Tirah particularly after merger of erstwhile Fata with Khyber Pakhtunkhwa, and people now know the importance of education. Gun culture is diminishing and literacy rate is improving. However, shortage of education facilities is hampering the progress of students who are otherwise very talented and have ability to compete with students from rest of the country.
There is no denying the fact that the West is dominating the world due to development in the field of education. And the country that are less developed, that is because of their spending priorities – they spend more on defence and less on education. No country can develop without excelling in the field of education. Getting education and applying it for greater benefit of the society is a must for progress and prosperity of a country.
With excelling in the field of education, we can also soon match the developed world in every field of life.
Hits: 2