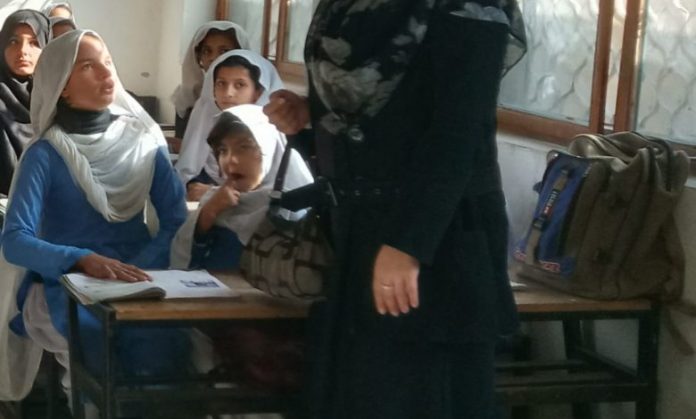 DERA ISMAIL KHAN: The family of little Muntaha Wazir, originally hailing from Shakai area of South Waziristan, has shifted to Dera Ismail Khan for education. The passion for education from Muntaha, a grade 4 student, can be gauged from the fact that she walks for an hour daily to reach her school in Gara Hayat area of DI Khan.
Muntaha often feels pain in her feet due to extensive walking. The radio listeners were really touched when they came to know about the story of Muntaha on FM Global DI Khan program hosted by RJ Waseem Anmol.
The girls school in Shakai area, the native town of Muntaha, is non-functional due to absenteeism of teachers which compelled her family to shift to DI Khan. Due to financial constraints, they live in a far flung area of DI Khan and Muntaha had to cover long distance on foot to reach her school.
Muntaha is not alone in facing hardships for her basic right of education. Thousands of girls in South Waziristan are facing similar or even worse situation due to non-functional schools.
The students of Girls High School in Chagmalai, South Waziristan, had also staged a sit-in last year over absenteeism of teachers. Same was the situation of girls students in Sra Rogha area where the middle school was non-functional and many girls were married of before they could get further education than primary level. The teachers of many girls schools in South Waziristan are still reportedly receiving salaries at home. The local people say many of these absent teachers belong to influential families due to which they could not be made accountable. They say difficulties are created for them by the 'influential people' when they raise the issue of non-functional schools.
Many girls also blame their parents for not focusing on their education as they focus on boys' education. There is no doubt that non-functional schools are causing a huge gap in education sector, but lack of awareness about importance of education is also a pressing problem. Some teachers are of the view that what they are expected to do when students are not coming to schools at all. Like students, teachers also regularly complain about lack of facilities in schools.
According to an estimate, there are about 894 schools in North Waziristan and 25 of these are in Dattakhel which are non-functional are the area people are still displaced. The Education Department data shows that there are 745 schools in South Waziristan including 280 girls schools and 75 community schools.
Awareness level is Waziristan and rest of merged districts is improving after merger with Khyber Pakhtunkhwa and increasing demands are now being made from the government to improve facilities at schools and make all the schools functional for promotion of education, particularly the girls' education.
Hits: 0