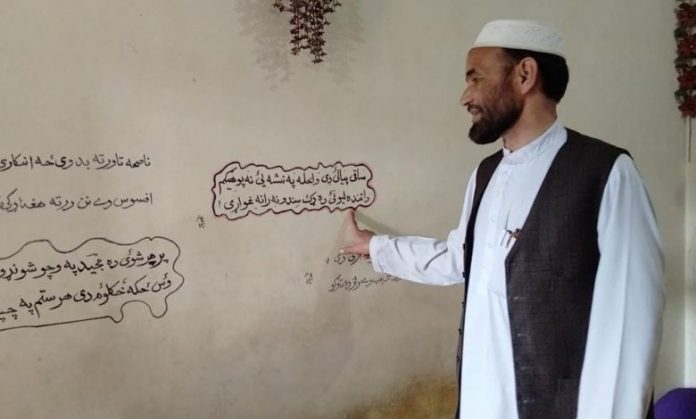 PESHAWAR: There is a poet in Koz Killi village in Jadba tehsil of Torghar district who is teaching Pashto writing and calligraphy to students without any fee.
The poet, Abdul Majeed Amjad says he desires to promote Pashto language and literature that is why he is offering free classes of Pashto writing and calligraphy to the students to enable them to know the beauty of their mother language.
Torghar is arguably the least developed district of Khyber Pakhtunkhwa and education ratio is also very low. Abdul Majeed, who is doing Pashto poetry for last several years, had to send his children to Islamabad for education before Torghar had got the status of district.
Abdul Majeed says there was no educational institution in the entire area 30 years ago and he used to invite boys to his hujra (male guest house) for writing and reading. He says he has thousands of students who have not got formal education, but learned writing and reading from him.
Abdul Majeed says only the poets and other people associated with Pashto literature are making efforts for promotion of Pashto language and no such efforts have been seen from the government side. He lamented that the government has not made Pashto a compulsory subject which is a matter of grave concern for Pashto poets and writers.
The famous poet says he is disturbed to see lack of attention towards Pashto literature. He says he has displayed a signboard outside his shop and hujra with a message that he would not charge fee from any student who wants to learn Pashto writing and calligraphy. He says several students have shown interest in his initiative and he has made a time-table to teach the students from his village. He says he teaches about 30 students in single batch.
The love of Abdul Majeed for Pashto poetry can be gauged from the fact that he has written hundreds of verses from Pashto poetry on walls of his shop and hujra.
Local journalist Rab Nawaz says Abdul Majeed was also an expert arms manufacturer before Torghar got the status of district. He says Abdul Majeed has now left the arms business and dedicated himself fully to serving the field of Pashto literature.
Hits: 113