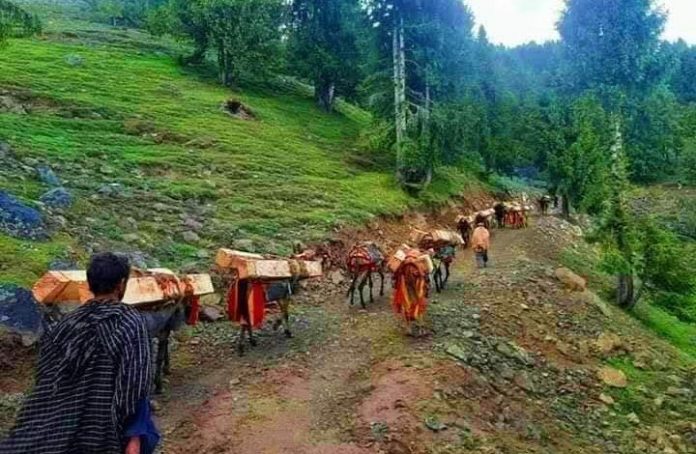 Kaif Afridi
PESHAWAR: When the 10 finest countries in the world are compared to Pakistan in terms of tourism, the total revenue earned by these countries and Pakistan's tourism revenue is incomparable. Our country is unrivalled in terms of tourist sites and seasons, but the countries that are still behind us in every aspect of tourism are benefiting greatly from its growth.
Tourists have long found Pakistan to be an appealing vacation destination. In the north of the country, there are some of nature's most beautiful sites, but the tribal territories are the ones that deserve the government's attention. Yes! Natural beauty can be found everywhere in the tribal districts.
Tourism in merged districts
In an interview with TNN, Kabir Afridi, tourism brand ambassador for Khyber Pakhtunkhwa, said merged districts of Khyber Pakhtunkhwa had a negative image for many years due to militancy. But now that peace has been restored, and as an overseas Pakistani, he has personally visited these areas to promote tourism, demonstrating to the rest of the world that tribal people are peace-loving and welcoming.
"The goal of visiting the tribal districts in the first phase is to create the impression to the locals that they should return to their areas and bring prosperity back to their lives," he said.
According to Kabir Afridi, Khyber and Waziristan districts are outstanding in terms of tourism. There are many fresh areas in Khyber district that are the best places in terms of historical adventure. Apart from this, there are many beautiful places in North Waziristan that attract the eyes of the tourists.
Suggestions for tourism promotion
To a question about how to promote tourism in tribal districts, Afridi said the government had made some proposals.
"To begin with, we must pay particular attention to tourism hotspots so that visitors from all over the country and the world do not have any concerns. This is because these regions were already in a poor state," he said.
The government must pay attention to rehabilitation, cleanliness, and accuracy in tribal communities, as well as advertise on social media, to boost tourism in these areas. In addition to that, the government needs to invest more in the development of the transport infrastructure in these areas. At the same time, provision of water, electricity, health and especially first aid facilities and mobile network should be made compulsory. Tourism in tribal districts will be resurrected in the not-too-distant future if the government invests and residents take full advantage of it.
Impact of Afghan situation
Former Inspector General of Police Khyber Pakhtunkhwa and analyst Dr Syed Akhtar Ali Shah, speaking to TNN, warned that if the situation in Afghanistan deteriorates further, the areas near the border will undoubtedly suffer, particularly the tourism sector will suffer the most.
"It will have an impact because, if the current situation in Afghanistan persists, a huge number of Afghan refugees may seek safety here, potentially creating an unstable situation," he said.
Dr Akhtar Ali Shah said maintaining peace in merged districts, which have previously experienced hazardous situations, would be challenging. "Targeted killings and terrorism continue to occur, tourism activities are not happening in these areas. Our intelligence network needs to be further improved so that any untoward incident can be prevented at any time and we don't have to face the same bad situation as before," he said.
"If the current government of Pakistan truly wants to improve Pakistan's economic condition, it must focus on improving the tourism industry," according to the former IG.
"The government should promote domestic and foreign investment and improve infrastructure to invest in roads, transportation, airline industry, as well as the construction of new hotels, restaurants, and resorts, among other things," he said.
The former police chief said there is no question that by taking these tiny positive actions, we will be able to present the Islamic Republic of Pakistan to the world in a fresh and brighter light.
Hits: 0