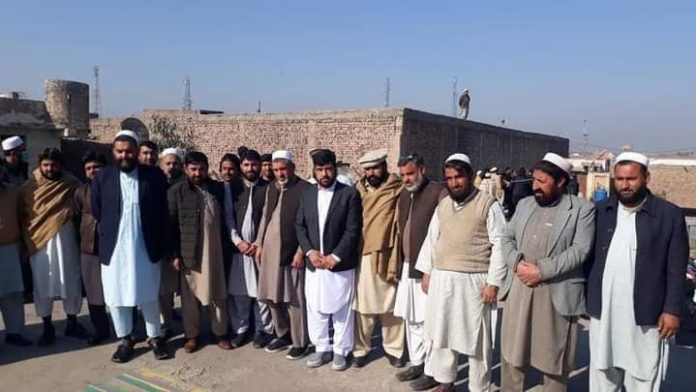 BARA: The traders of Bara Bazaar in Khyber tribal district on Friday held a protest demonstration against the bank robbery in the area in broad day light.
The office-holders of Bara Trade Union held an emergency meeting which was attended by Abdur Rauf, Musharraf Khan, Haji Bahadur, Syed Ayaz Wazir, Haji Gulmin Shah and owners of different markets. Participants of the meeting said the banks, vehicles, businesses and markets are not safe, while the local police has disappointed the people as far as law and order situation is concerned.
The traders strongly condemned the bank robbery in Bara on Thursday and said incidents of robbery are increasing in the area, while the law enforcers have failed to curb such incidents. They said it has become difficult for people to carry out their business in such a situation.
The protesting traders demanded the government to arrest the culprits involved in bank robbery immediately and award them exemplary punishment.
The bank robbery
For the first time in Bara, robbers robbed a bank and escaped with Rs6.5 million cash on Thursday.
TNN correspondent reported that for robbers wielding pistols came to the bank gate in Bara Bazaar and pushed the security guard inside the bank and put a gun on his head with a warning that he would be shot if he moved. The robbers also made the whole bank staff and customers hostage on gun point and asked everyone not to move. They snatched mobile phones from the staff and broke these mobile phones and also the computer screen to make sure that no one seeks help from outside.
The robbers put the money into a bag and escaped quite easily. A police team reached the bank after the robbery and initiated investigation by collecting evidences.
Conspiracy against peace
The people of Bara expressed grave concern over bank robbery in the area and termed it a conspiracy against peaceful environment which has been achieved after huge sacrifices.
Khyber Union leader and social activist Farooq Afridi said Bara Bazaar remained severely affected due to militancy for 20 years. He said the business activities resumed in the area after a long pause with the sacrifices of security forces and local people. He said the area is back on track to development and business activities are also gaining boost with passage of time, but incidents like this spoil all the hard work.
Farooq Afridi said such acts are being carried out in Bara to sabotage peaceful environment and dent the confidence of investors. He demanded thorough investigation into the incident from all angles and severe punishment to conspirators who are disturbing peaceful environment of the area.
Hits: 0