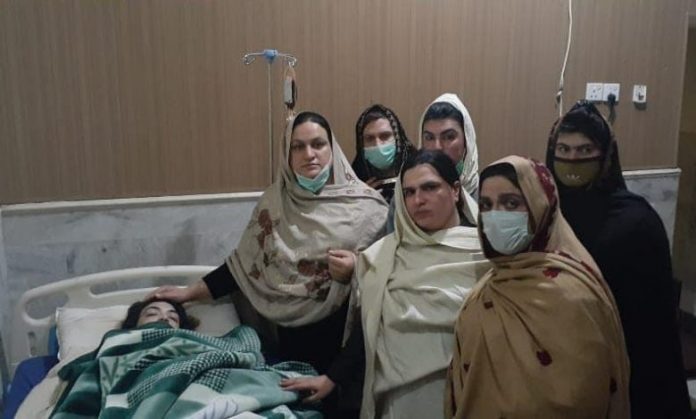 PESHAWAR: The condition of transgender person Chahat, who was injured in a knife attack in Peshawar on Monday night, is stated to be out of danger.
Spokesman for Lady Reading Hospital (LRH) Peshawar Muhammad Asim said Chahat was brought in injured condition to the hospital on Monday night and special treatment was provided to her in the hospital.
The spokesman said the transgender person was admitted to a private room and a major surgery was performed to save her life. He said special treatment facilities are available at the LRH for treatment of transgender persons and they get all facilities. He hoped that the injured transgender person will recover soon.
On January 21, an accused involved in attack on transgender persons was arrested in Khyber tribal district.
Local sources said a vehicle of transgender persons was attacked and set on fire along with the sound system after which the transgender persons had lodged a first information report (FIR) against the accused. Jamrud police took immediate action and arrested an accused.
The transgender persons demanded justice and also compensation for damages.
In Khyber Pakhtunkhwa, transgender persons often make complaints about highhandedness from other members of the society.
On January 12, a transgender person alleged that a rape attempt was made on her at the LRH Peshawar.
Transgender person Aarzoo said she went to the fifth floor of the new block of LRH with her guru (leader) Jaidi for her blood test. She said the blood sample was taken at the laboratory and they were asked to inquire about it after one and a half hour.
Aarzoo, who claims to be the president of transgender community in KP, said a person appeared from another room and asked her to come to that room and touched her inappropriately. She said she slapped the man and a quarrel started.
On November 08, a transgender person was allegedly gang-raped by seven persons in Takht Bhai area of Mardan after which the main accused was arrested.
The victim transgender person Adnan alias Khushi, a resident of Hashtnagri area of Peshawar, told police that she was returning to Peshawar along with another friend, Afaq Jan, after a dance party at a wedding ceremony in Shergarh when a group of young men intercepted their car near Rahman Town on the Malakand Road. The 21-year-old transgender person said that the accused forcibly took her to fields and she was gang-raped for two hours.
Hits: 0