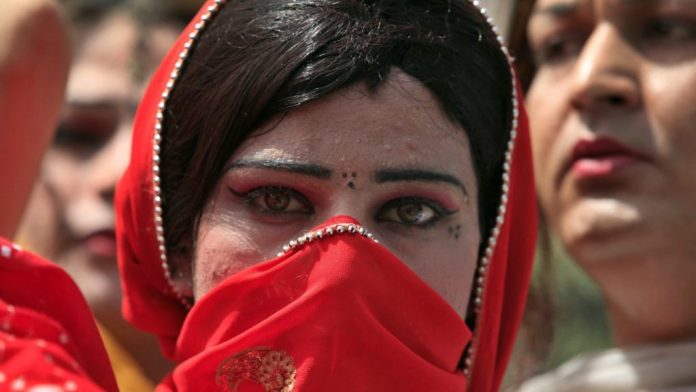 MARDAN: A transgender person has been sexually abused in Mardan, police said on Saturday.
Officials of Saddar Police Station said transgender person Mehboob Shah alias Zorawara lodged a complaint in which she stated that she had gone for bathing along with her friend Anmol and after returning she was confronted by three accused at Charsadda Road. She said the three persons subjected her to torture and took her forcibly in their car. She said the three persons subjected her to sexual abuse and left her after that.
Police have filed a report against accused Fazlur Rehman and two others and initiated investigation.
It is not first time when transgender persons have faced highhandedness and violence in Khyber Pakhtunkhwa.
On April 01, a transgender person was allegedly kidnapped and tortured and also sexually abused while returning from a music program in Hazar Khwani area of Peshawar.
Police took immediate action and recovered the kidnapped transgender person and also arrested four alleged kidnappers.
On March 06, Nowshera Police arrested an accused who attacked and injured a transgender person.
Police said that transgender person Fayyaz alias Sunny came to Cantt Police Station with a complaint that a boy, Asad came to his residence in Siddique Plaza and indulged into argument with him. He alleged that the boy got furious during the argument and started beating him black and blue, leaving him injured.
On February 10, a transgender person was allegedly kidnapped in Peshawar and the accused also made her immoral video.
Transgender Alliance KP president Farzana says 78 transgender persons were killed and hundreds others were injured and sexually abused during the last six years. She said transgender persons did not enjoy any legal protection. She said transgender persons did not get much help at police stations, and even if they get help then weaker sections of law are applied in the FIR.
Civil Society Network official Taimur Kamal says the federal government had enacted a law on rights of transgender persons, but its scope has not been extended to provinces even after 18th Constitutional Amendment. He said media reports incidents of crimes against transgender persons more in KP as compared to rest of the country.
Hits: 5